Chuncheon Ladies Tour
Dear all,
Let's greet Spring with romantic Chuncheon city!
Plus Planner team has come up with the special 1 day package to enjoy Chuncheon at the best. Check out new and interesting places in Chuncheon to visit and how to get special discount of 10,000 KRW from the original price as 35,000 KRW!
How to Join
(1) Visit www.koreadramatour.com and find the package titled Chuncheon Ladies Tour. Click the button of the date you desire to travel.
** Please note that the promotion is only for 1 Mar ~ 27 Apr, 2018 and your travelling date must be within the promotion period.
** Please check inclusion and exclusion parts below.
[Inclusions]
– Round-trip Transportation from Seoul
– Admission ticket to Soyang River Sky Walk
– Admission ticket to Nami Island
– 2,000won Chuncheon Gift Voucher
– English speaking Tour guide
[Exclusion]
– Meal
(2) Make a reservation and inform Plus Planner via channels below. Please make sure to present the promotion code as PL8018_G to get special discount.
Overseas Call : +82 1833 5165
Call In Korea : 1833 5165
Email: info@winterfriend.com
Whatsapp : +82 10 4259 2890
(3) Make a payment with the discounted rate. Enjoy your tour!
Places to visit with Chuncheon Ladies Tour package
Soyang River Sky Walk – is an observatory structure built atop Uiamho Lake. With a total length of 174m, it is the longest skywalk in Korea, and has a total of 156 meters of clear glass offering up the thrilling feeling of walking on water. It can feel quite scary to know just a pane of glass is holding you up, but there is no need to fear. Cloth shoe covers are ready to put on at the entrance to Soyanggang Skywalk.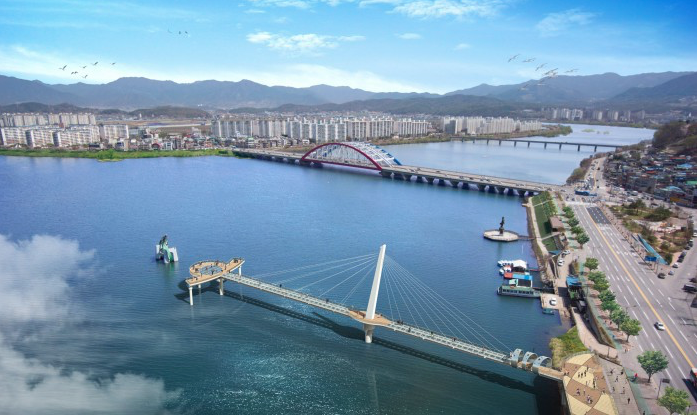 Shooting location for "While You Were Sleeping" -starring Lee Jong-suk, Bae Suzy, this K-Drama "While You We're Sleeping" was a hit to many young people. Visit the house of place where the love story of this couple begins.
Yuk Lim Street – One of the largest commercial areas in the past, Chuncheon City has reproduced the old pub in the area which is now Yuk Lim Street. It has a Makgolli Village(traditional rice wine) and it is getting a good response from young people in ages 20's – 30's who are reviving the old atmosphere of this place.
Chuncheon Myeongdong Dakgalbi Street – was formed in the 1950's and is now one of the most famous food-themed streets in the nation. Dak-galbi is a stir-fried dish made of chicken mixed with a spicy seasoning and fried on a large pan with various vegetables, including plenty of chopped cabbage. The kick of the spicy seasoning goes well with the tenderness of chicken for a taste that is loved by all. These days it's even easy to see foreigners visiting Chuncheon just to enjoy this delicious meal. The warmth of dak-galbi also goes great when eaten alongside the refreshingly cool mak-guksu which is a buckwheat cold noodles.
Chuncheon Myeongdong Street – This popular street is in the heart of downtown Chuncheon. Fast-food restaurants, movie theaters, and nightclubs all pack the streets of this hip area. – Tax Free Zone is also the asset of this place to Foreigner's who loves to shop.
* Several scenes from the popular drama "Winter Sonata" were filmed here.
Nami Island – is an oasis for culture and leisure in peaceful harmony with humanity and nature. This Island was formed as a result of the construction of Cheongpyeong Dam. It is a half moon-shaped isle, and on it is the grave of General Nami, who led a great victory against the rebels in the 13th year of the 7th king of the Joseon Dynasty, King Sejo (reign 1455-1468). It has facilites that all ages can enjoy such as; Zipwire, UNICEF Train, Bike, Electronic Car, Motor Boat.
Enjoy your tour and feel romantic Chuncheon in this Spring!