Transportation Hub City, Yangyang
Yangyang has a heaven-gifted scenery, with mountains, ocean, and rivers harmonized beautifully. It is a good place to watch sunrise, and also Yangyang International Airport makes it the transportation hub of Gangwon.
Yangyang International Airport
Yangyang International Airport is the only international airport in the Yeongdong (Northern and Eastern part) region. The airport excellently serves as the arrival point for tourists to Korea's representative attractions of Gangwon, Seoraksan Mountain and Donghae. The airport provides much information in regards to tourism in the Yeongdong region in addition to offering a tourism transportation service. Domestic flight for Yangyang-Jeju and Yangyang-Busan via Korea Express Air is operating every day except for Wednesday.
For more information about flight schedule, please click HERE 🙂
Address:

201 Gonghang-ro, Sonyang-myeon, Yangyang-gun, Gangwon-do, South Korea
Yangyang Salmon Festival (14-17 Oct 2016)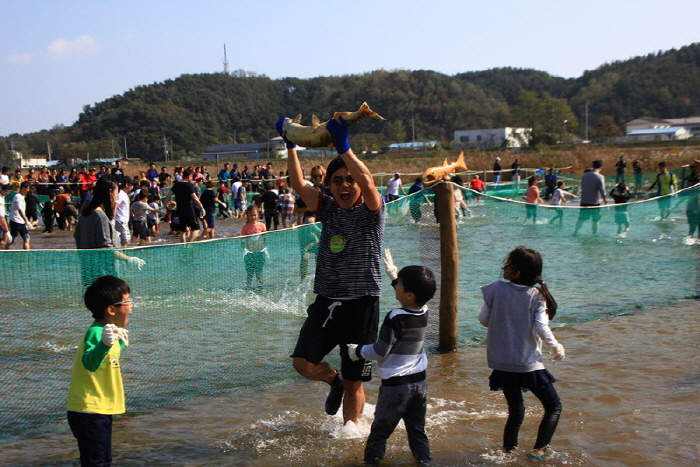 Namdaecheon Stream begins in Odaesan Mountain, Buyeon-dong Valley, gaining size and strength as it nears Eoseongjeolli in Hyeonbuk-myeon before reaching the East Sea. Salmon that were spawned in Namdaecheon Stream swim to the East Sea to grow for three to five years in the Bering Sea before returning to Namdaecheon Stream between late October and November.
The Salmon Festival in Yangyang began as a salmon-fishing contest in mid November 1996, and has been held as Yangyang-gun's festival since 1997. Every year, it offers a variety of salmon-related events and attracts a large crowd of people eager to fish for salmon.
Address: 549, Ilchul-ro, Yangyang-gun, Gangwon-do 강원도 양양군 양양읍 일출로 549 (양양읍)
How to go
From Seoul Express Bus Terminal or Dong Seoul Bus Terminal
-Take an intercity bus to Yangyang Intercity Bus Terminal.
(travel time: 2 hr 50 min)
-The festival venue is located about 600m from the terminal.
Yangyang Songi Festival (Pine Mushroom Festival) (양양송이축제)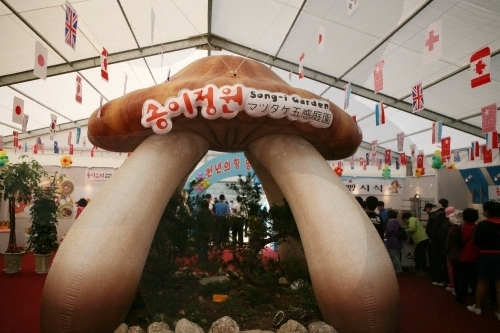 Yangyang Songi Festival offers hands-on programs to enjoy Yangyang songi mushrooms that naturally grow on Taebaeksanmaek Mountain Ridge. These local specialties feature a strong mushroom scent and thick texture thanks to the low percentage of moisture compared to other region's mushrooms, helping to preserve them for a long term. At the festival, visitors can experience the farming ambience through the mushroom picking program. The program also allows foreign visitors can learn about the excellence of Yangyang Songi.
Address: 549, Ilchul-ro, Yangyang-gun, Gangwon-do 강원도 양양군 양양읍 일출로 549
Naksansa Temple (낙산사)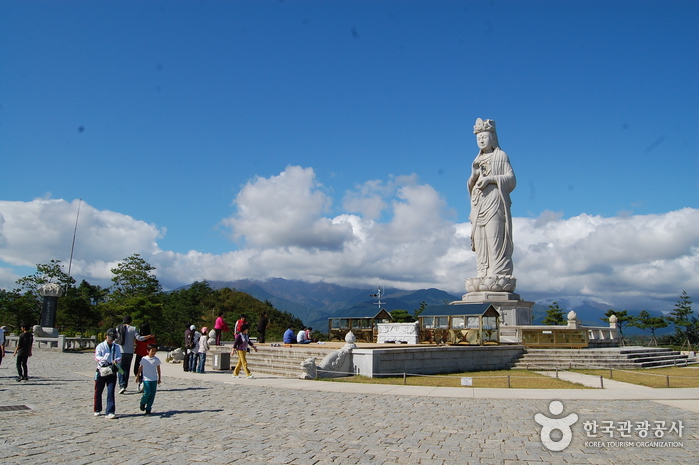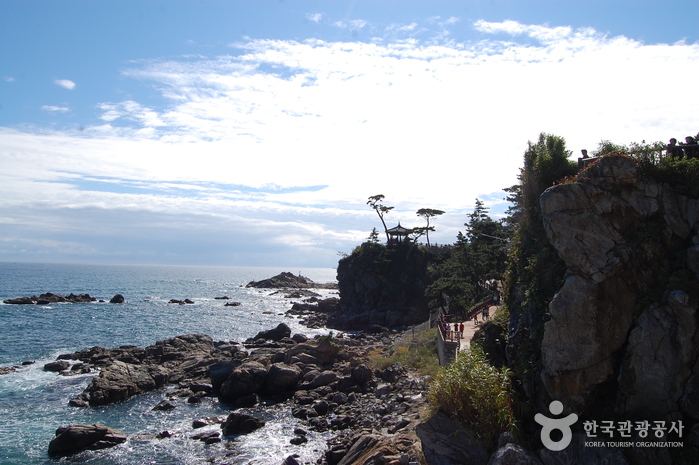 Naksansa Temple is located 4 km north of Naksan Beach, and boasts a 1,300-year history. It is a temple built by Ui-Sang, the ambassador of the 30th King of Silla Period (57 BC- 935 AD), and inside is the Seven Story Stone Tower, Dongjong, Hongyaemun, together with several other cultural assets. It was named Naksansa Temple by Ui-Sang, at the spot where he learned the prayer Gwansae-eumbosal from Bosal, after he returned from studying abroad in the Chinese Tang Kingdom. It was rebuilt several times afterwards, and the current building was erected in 1953.
You can get to Naksansa Temple by passing through Iljumun and Hongyaemun Gates. When you enter the temple from Hongyaemun Gate, you can see black bamboo trees and tiled earthen walls on either side of the sanctuary. North of Naksan Beach, beside the copper bell is a back door, with a path that leads to Uisangdae Pavilion and Hongryeonam. Uisangdae is a pavilion built on top of a cliff by the sea, and was built where Ui-sang used to sit and meditate. Hongryeonam is known as a small Buddhist temple, built above a stone cave by Ui-sang. Under the sanctuary floor there is a 10 cm hole through which you can peak through to view the sea. Past Uisangdae Pavilion, up the path on the hill at Sinseonbong, there is a stone statue of Buddha called Haesugwaneumsang. It is the largest of its kind in the Orient, and can be seen from as far as Mulchi Harbor.
Address:

100 Naksansa-ro, Ganghyeon-myeon, Yangyang-gun, Gangwon-do, South Korea 강원도 양양군 강현면 낙산사로 100
Hajodae Beach (하조대 해변)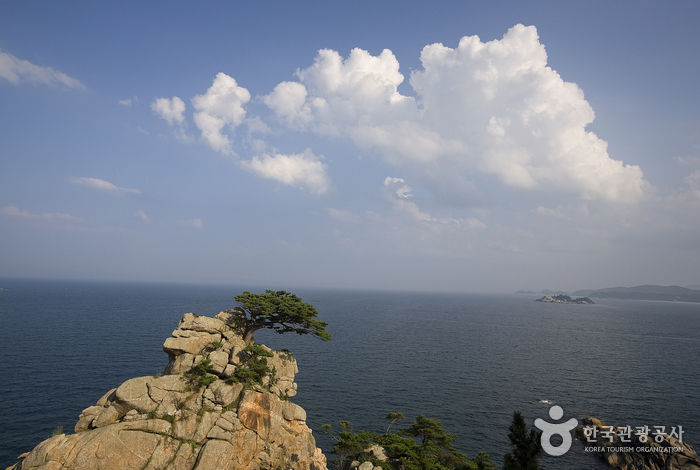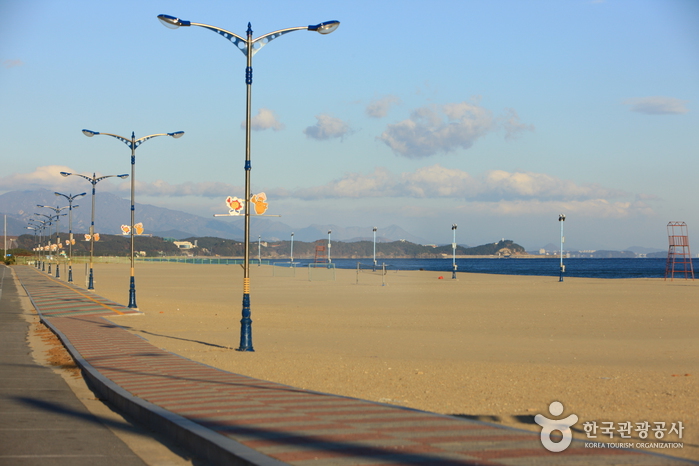 Across from Hajodae there is a rock indicating the 38th parallel. Fresh water flows into the right side of the beach. The south side is great for fishing because of its bulwark, rock island, and Giamgoiseok (fantastic rocks and stones), and you can see Jo island to the right. On the left side of the beach there is an unmanned white lighthouse. This lighthouse is open from 9am to 7pm and you can enjoy a view of the whole area from the top.
Address: 35, Hajodaehaean-gil, Yangyang-gun, Gangwon-do 강원도 양양군 현북면 하조대해안길 35
Come on over to Yangyang in this Oct with your beloved sayang 😀
Stay tune with us,