Transparent World in Gangwon
Dear all,
Have you imagined to walk on the water or in the sky? Today we introduce 4 places in Gangwon that you can look down the clean and clear scenery just like a bird's eye view!
Chuncheon : Soyanggang Sky Walk
Soyanggang Skywalk is an observatory facilty set up on Uiamho Lake. The walking path, comprised of transparent glass, is 156m long and offers a thrill to tourists as they feel they are walking over the lake.
Location : 2675, Yeongseo-ro, Chuncheon-si, Gangwon-do
Admission Fee : Individuals – Adults 2,000 won / Teenagers 1,500 won / Children 1,000 won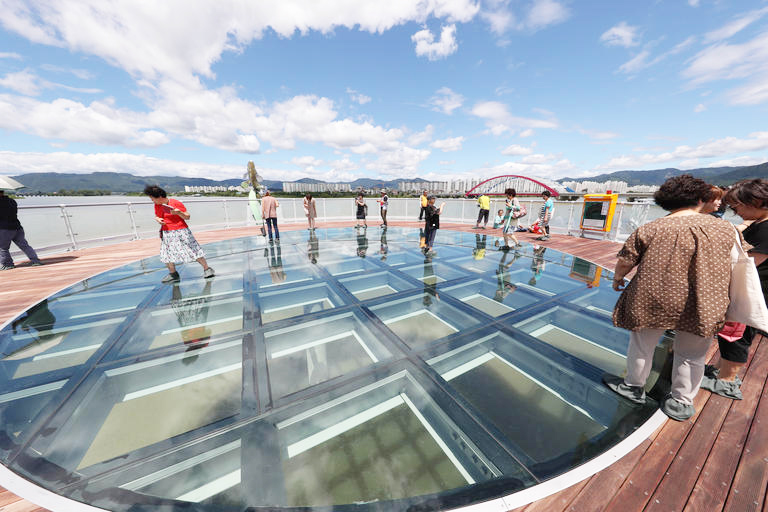 Chuncheon : Gubongsan Cafe Street
Gubongsan Mountain Observatory is one of the most scenic driving courses in Chuncheon, stunning with its breathtaking views both day and night. With fresh brewed coffee in hand, go for a stroll to its outside terrace or garden where you can gaze out on the beauty of Chuncheon. The observatory offers the best spot to see the night view of Chuncheon. Cafes and restaurants decorated with different themes provide good coffee and a great food. You can enjoy sitting on the wooden deck and watching the world around you at its finest.
Location : 1154-113, Sunhwan-daero, Chuncheon-si, Gangwon-do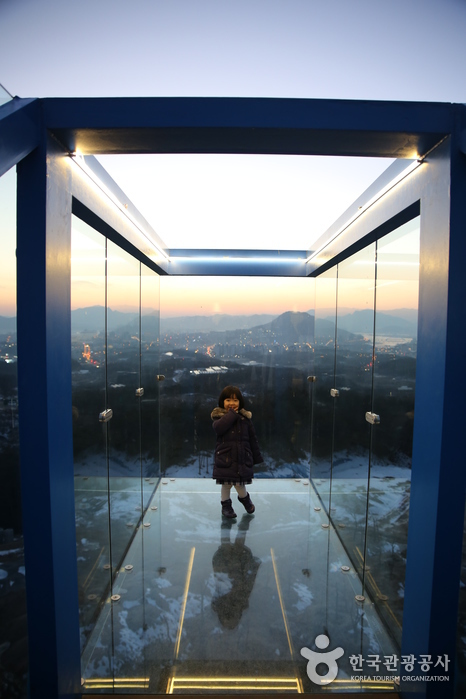 2 places can be covered by Chuncheon City Tour Bus! Take a look how to enjoy the city tour bus with DKYW 2017 campaign.
GO! GO! GANGWON YOUR WAY : How to fully enjoy GANGWON with DKYW – Part 1
Jeongseon : Byeongbangchi Sky Walk
Byeongbangchi Observatory is in the between Gyuram-ri and Buksil-ri in Jeongseon-eup and features breathtaking views surrounding Bamseom Island whose shape is like the Korean peninsula with streams of Donggang River. Byeongbangchi Skywalk experience offers a thrilling experience as it gives a feeling of walking in the sky thanks to the tempered glass on the 'U' shaped structure (11m) projected from the cliff at altitude of 583m. From this observatory, tourists can see the beauty of Bamseom Island and Donggang River, making
it an attractive point to visit.
Location : 225, Byeongbangchi-gil, Jeongseon-gun, Gangwon-do
Admission Fees : Adults (ages 19-64) 2,000 won / Teenagers & Children (ages 7-18) 1,000 won / Zip wire Fees 40,000 won
Samcheok : Janghohang Transparent Canoe
Janghohang Port is just 25km from downtown Samcheok. The port is famous for its round beach line and white sand shore and is known as the "Naples of Korea." From the beach, Janghohang Port offers excellent views of unique rock formations in the sea. Being that it is a port town, it is a rich provider of seafood such as abalone, seaweed and sea cucumber. It is also known as an excellent place for recreational fishing.
Location : 103, Janghohang-gil, Samcheok-si, Gangwon-do
Stay tune with us, Gangwon