Summer Romance in Chuncheon
Dear all,
Now we are in the midst of Summer in Korea, this lively season has a magical power to make us be in a different mood unexpectedly. Thus Summer romance always sounds heart-throbbing as well 😀
Here we invite you a nostalgic story in Chuncheon, a city of romance. Starting from 1970's, Chuncheon was a symbolic place for young generation's outing, especially college students' team building activity as it's only 1 hour from Seoul and has beautiful scenery in everywhere of the city.
So shall we have a date to Chuncheon now?
Nami island
Nami island is located in Chuncheon city and surrounded by Chungpyeong dam. General Nami's tomb is here so it has been called as Nami island. Nami island has been well-known by the Korea drama "Winter Sonata" and beautiful forest.
In "Winter Sonata", Yu Jin and Jun Sang had a first date in Nami island. Childish snow fight and clumsy first kiss took place here; many viewers have been heart-warmed with their innocent date scene and visited Nami island to feel the vibe.
Admission Fee: 8,000 KRW (Foreigner)
Operation Hours: April-October: 09:00~19:00 / November-March 09:00~18:00
Gubongsan Mountain Observatory Café Street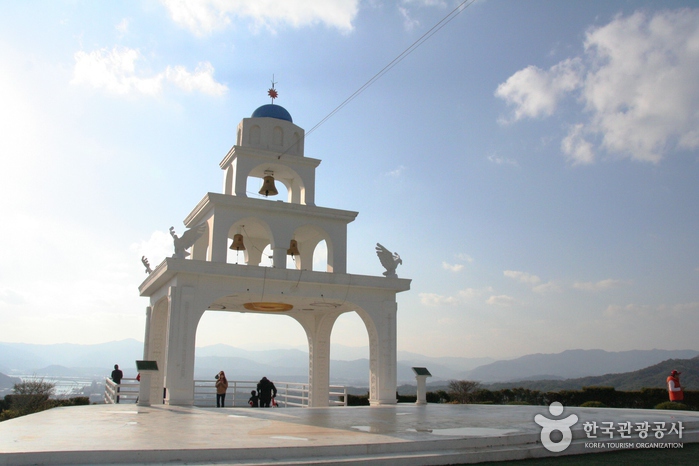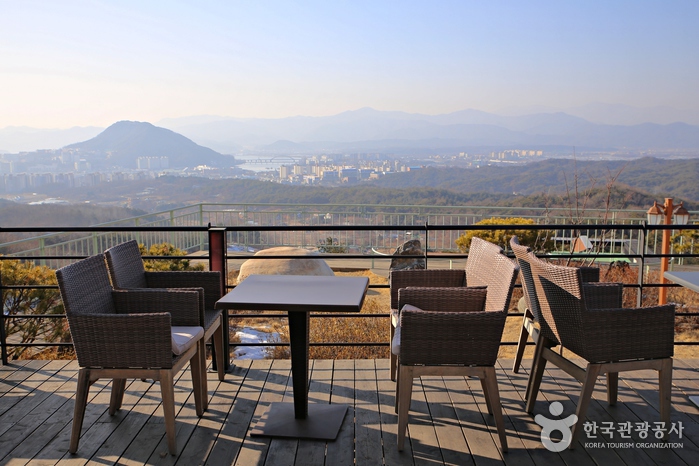 Gubongsan (구봉산 九峰山) is the name of the mountain in Chuncheon town. Its name means the mountain with 9 peaks. From the observatory in the mountain, you can enjoy the great city view of Chuncheon together with Uiamho lake view. It's been a must-visit spot for couple these days to drop by for a lunch or coffee break. Of course, taking a picture at Santorini Café shouldn't be missed out as well!
Lady Soyanggang Statue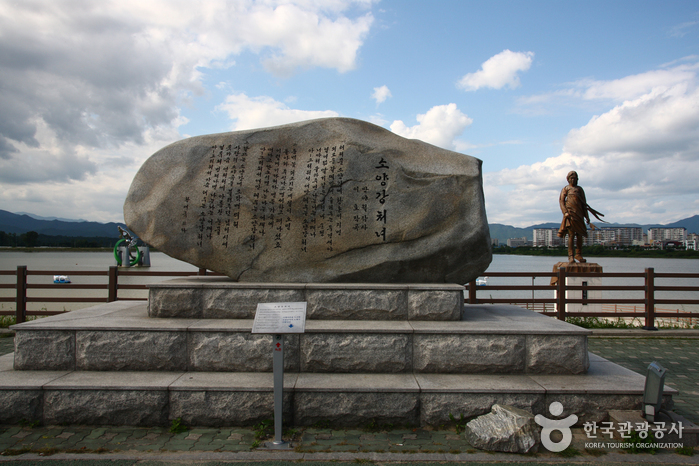 Soyanggang (昭陽江) is a large river crossing the Chuncheon city and connected with Bukhangang. Lady Soyanggang is a landmark of Chuncheon from very famous folk song in 1970 and beloved by Chuncheon citizens. If you come push the button on Lady Soyanggang statue, you can listen to the song as well. Let's catch up some lyric and story inside the song. Video below is Yeoeun (member of Melody Day)'s remake version in TV show <Immortal Song> to tribute to Mr. Ban Yawol, the great songwriter.
해 저문 소양강에 황혼이 지면 – The sunset over the Soyanggang
Ms.Park Kyunghee was a high school girl whose parents were running the inn named "Hosujang (Lake inn)" near to Soyanggang, so her school teacher and mates gave a nickname as "Lady Soyanggang" to her. In March 1967, the famous song writer "Banyawol" traveled to her parents' inn and stayed half a month. One day, Mr.Ban asked Ms.Park to take him to the small island in a raft.Ms.Park, Lady Soyanggang was sailing on the raft against the sunset and Mr.Ban was inspired with her figure to make the first lyric of the song.
외로운 갈대밭에 슬피 우는 두견새야 – a nightingale is crying in the reed beds
Ms.Yoon who was the eldest daughter among 7 siblings moved to Seoul alone to make a money for her siblings and met Mr.Ban in a Korea folk song community to attend a song class. Mr.Ban helped to release her first record album titled "This much" so Ms. Yoon's father gratefully invited Mr.Ban to Chuncheon. One day, Ms.Yoon and Mr.Ban went for fishing and were caught in a shower. Mr.Ban thought that Ms.Yoon looks like a nightingale crying in the reed beds and made another lyric.
Gangchon Rail Bike 
If you are a big fan of Running Man, surely you will know about this place. You can take off at Kim Yu Jeong station to try Rail Bike. Enjoy your riding having a fresh air and seeing the beautiful scenery!
Admission Fee: 25,000 KRW (2 seaters)/ 35,000 KRW (4 seaters)
Operation hours: March to November (5 times)/ December to February (4times)
Dakgalbi
Dakgalbi is a spicy chicken stir-fried in a round pan with vegetable as cabbage, onion, sweet potato etc. and it has been a beloved local food among Chuncheon citizens; Along with Dakgalbi, you'd need to take Makguksu which is a cold buckwheat noodle with a spicy sauce. Chewy noodle makes a great combination with stir-fried Dakgalbi.
We have Dakgalbi and Makguksu festival for 25-30 Aug (http://www.mdfestival.com/), you may come take a look!
Nangman Market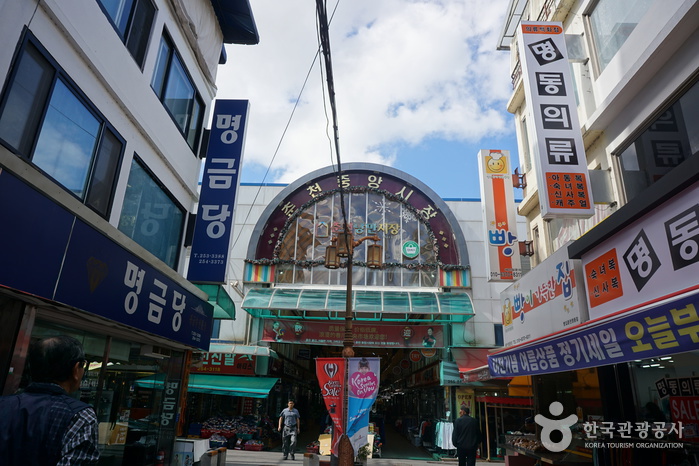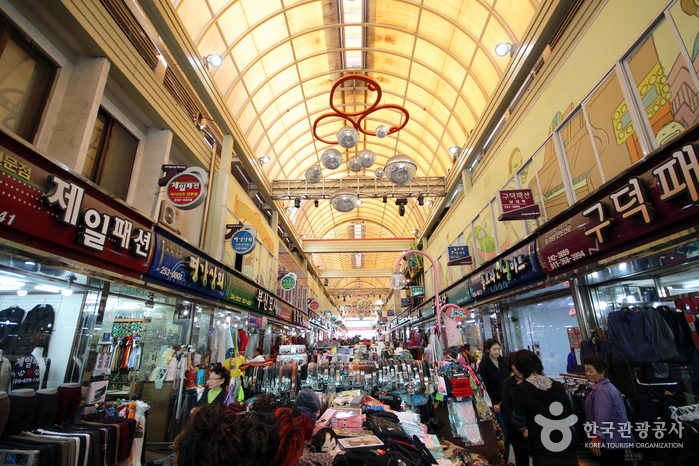 Nangman Market is a local market with a long history in Chuncheon. Previously it was called as Chuncheon Jungang Market (춘천중앙시장). Nangman (浪漫(làngmàn)) means Romance in Korean. Since Chuncheon city has a title of "City of Romance", it has started to have a title as Nangman Market. Inside the market, we have a classic style of coffee shop and meet the fruit shop owner who can speak perfect Mandarin as well!
How did you find romantic Chuncheon? Travel to Chuncheon with someone you love now!
Stay tune with us,