Spring has come to Gangwon
Dear all,
Finally Spring has come to Gangwon after long Winter 🙂 Are you ready to have a fresh and warm air of Spring? Let's take a look on flower festival and attractions to feel Spring at the best in Gangwon 🙂
Samcheok Canola Festival
The Maengbang Flower Festival is one of the landmark spring celebrations in Korea and is held every April near Samcheok-si City in Ganwon-do Province. The festival boasts a breathtaking view of canola flowers, cherry blossoms and the blue sea of the East Coast. The festival also offers a diverse set of events and programs including a local produce market, fresh strawberry picking, and exhibition on canola flowers and bees. The Samcheok Tourist Center will also be at the festival to help any tourists to the area visit the variety of tourist attractions nearby such as Haesindang Park, New Millennium Ocean Road, Wife of King Suro Park, and the filming place for "One Fine Spring Day."
Date: 7-16 April, 2017
Location: 3992-8, Samcheok-ro, Samcheok-si, Gangwon-do
Gangneung Cherry Blossom Festival
Cherry blossom festival is a major festival held in Gyeongpo Beach area in early of April every year and been loved by visitors. You can walk along Gyeongpo lake enjoying beautiful cherry blossom flowers. While you walk through the road, you can enjoy artworks and do activities such as hand-made soap with cherry blossom flower and visit the memorial park of talented literary sister and brother, Ms. Heo Nanseolheon (1563-1589) and Mr. Heo Kyun (1569-1618) as well.
The Heo family members (Heo Yeop – Father / Heo Seong, Heo Bong and Heo Kyun – Sons / Heo Nanseolheon – Daughter) were great in literature so called as 5 Heo writers by people.
Date: Early April, 2017
Admission Fee: Free
Location: Gyeongpo-ro, Gangneung-si, Gangwon-do
Gangneung Danoje Festival
Gangneung Danoje festival was acknowledged as UNESCO World Heritage and had a function to make a harmony by letting people of all social stratum join in the festival together. Dano (端午) is 5th day of May in Lunar calendar. Ancient people in East Asia believed that May in Lunar calendar is not a good season coming with heavy rains and negative energy so got to take action to chase away the evils and it led to many ritual programs.
 On Dano's day, women washed faces and hairs with water infused with calamus and men were having a root of calamus on the trouser's belt since they believed that it casts out the evil spirits. Additionally, people made rice cakes with marsh plant and enjoyed the diverse programs as swing, Ssiream (Korean traditional wrestling), mask dance etc.
 Gangneung people had performed the ritual ceremony for mountain spirits in Daekwallyeong which comes with sharmanic ritual below. Discriminatively, this festival has a color of Confucianism, Taoism, Sharmanism and Buddhism. Gangneung people believed that they can have a peaceful and rich life by performing the ceremony for spirits.
Date: 27 May – 3 Jun, 2017
Admission Fee: Free
Location: 210-932, 1 Danojang-ro, Gangneung City, Gangwon Province
If you are worried about transportation, come check out Go!Go!Gangwon shuttle giving you one-stop service 🙂
Wait, you will not be travelling to Gangwon in the festival period? No worries, come enjoy flowers blooming in Gangwon!
Taebaeksan Mountains Royal Azalea 
Royal azalea's are one of Korea's most well-loved flowers and in springtime they bloom throughout the country. They are thought to be at their most beautiful on the slopes of the 1567m high Mt Taebaeksan, and a festival is held here in June when the flowers are at their most beautiful. During this time some of the mountain's most picturesque locations, such as the Cheonjedan altar and Janggunbong and Busoebong peaks are strewn with the bright pink flowers, making for a beautiful view.
In addition to the beautiful scenery, Mt. Taebaeksan is famous for the many fossils from the early Paleozoic era, which have found on its slopes, and many tourists visit the mountain to see these rare fossils.
Location: Mt. Taebaeksan Provincial Park, O2 Resort, Gowon Forest Rest, Hyeoldong Rape Field
Jade Garden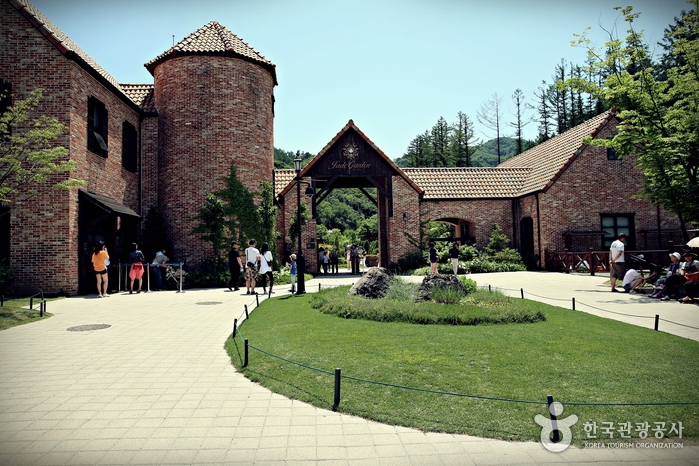 Jade Garden, created under the theme of 'Small Europe in the Forest,' is located near Jade Palace Golf Club on a plot of land measuring 160,000 square meters. The 24 distinctively-themed areas in the garden boast a total of 3,000 plant species including rhododendron, maple trees, irises, and blueberry bushes as well as patches of thick, natural forests. The arboretum makes the most out of its natural valley topography and presents visitors with a mix of tidy gardens, graceful flowers, and an array of European-style architecture.
For the convenience of its guests, Jade Garden operates a Tuscan-style visitor's center where patrons can enjoy a simple snack or beverage and purchase souvenirs. Visitors may choose from three different walking courses (each 2 hours in length) around the arboretum and there a gardening program is also available for aspiring gardeners.
Address: 80, Haetgol-gil, Chuncheon-si, Gangwon-do
Operating Hours: 09:00-Sunset (18:00-19:30) (* Last admission is 1 hour before closing)
* The hours may change depending on weather condition.)
Admission Fees Adults 8,500 won / Teenagers 6,500 won / Children 5,500 won
Stay tune with us, Gangwon