Savor Winter to the Fullest: Time to Enjoy Winter Festival in Gangwon!
Dear all,
Do you want to see "Frozen" world during this Winter season? As everyone knows, Gangwon is a heavenly place during winter season with the massive amount of snow and ice giving a big thrill to visitors. Here we introduce 5 festivals in Gangwon that you can savor Winter to the fullest with snow and ice!
Pyeongchang Trout Festival (22 Dec 2017 – 25 Feb 2018)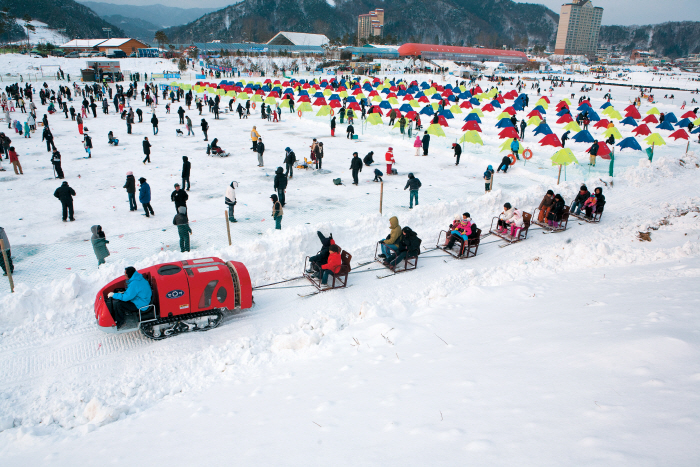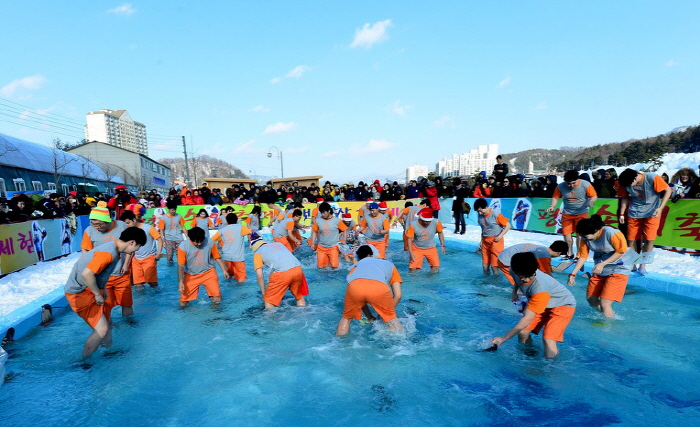 The Pyeongchang Trout Festival takes place during winter in the town of Jinbu-myeon in Pyeongchang-gun district. Visitors to the festival can enjoy a variety of programs including ice and lure fishing for trout, snow programs, ice programs, folk programs, and more. There will also be traditional folk games including sledding and top spinning, and visitors can try out sports such as riding 4-wheel ATVs, snow rafting, sleigh trains. Any trout caught from ice fishing and lure fishing can be prepared right away at a nearby restaurant.
Trout farming first started in Pyeongchang due to its cold, clear waters. Trout offer plenty of nutrition, and their natural taste makes them delicious when eaten raw.
► Location :  3562, Gyeonggang-ro, Pyeongchang-gun, Gangwon-do
► Main programs : Trout-fishing, Bare-handed fishing, Sledding, Bobsleigh-riding, Ice skating, Winter game experience
Hwacheon Icefishing Festival (6 Jan – 28 Jan 2018)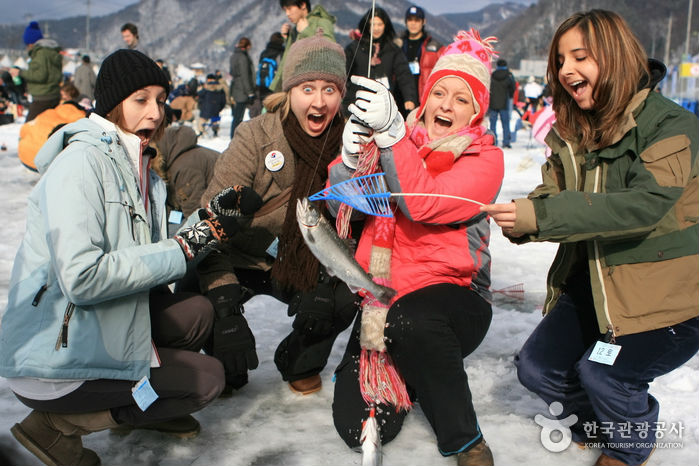 Hwacheon Sancheoneo Ice Festival takes place at Hwacheon county in Gangwon-do with plenty of snow and ice, perfect for a winter getaway. Since 2003, the festival has been visited by a million people, making this festival more joyful. Varied festival programs include ice-fishing, ice sledding, bobsled, and other things to see and participate in.
► Location :  Hwacheon-eup, Hwacheon-gun, Gangwon-do
► Main programs : Trout ice fishing, lure fishing, Snow sledding, Ice sledding, Ice soccer, Bobsleigh
Inje Smelt Festival (27 Jan – 4 Feb 2018)
Inje Icefish Festival has developed thanks to a lot of tourists' participation and their interest since 1997. It tries to offer varied programs following trends. Visitors can enjoy icefish fishing at the festival venue.
► Location : Bupeyong-ri, Nammyeon, Inje-gun, Gangwon-do

► Main programs : Icefish fishing, icefish cook coaching, fish porridge sharing, large-sized icefish sleigh, icefish studio, etc.
Daegwallyeong Snow Festival (7 Feb – 22 Feb 2018 *subject to change.)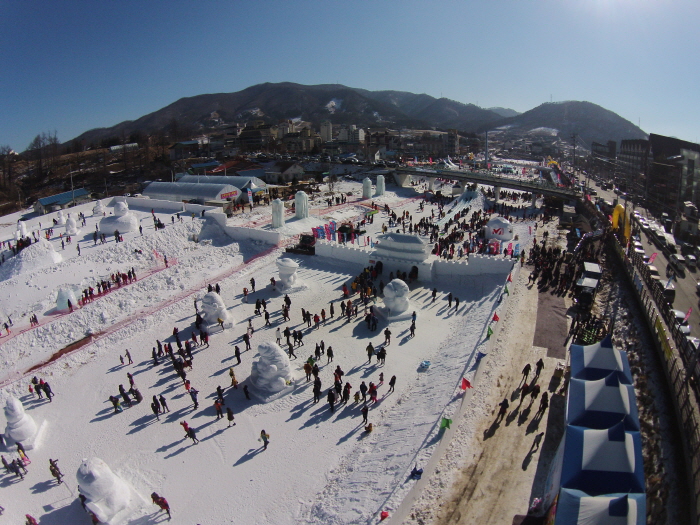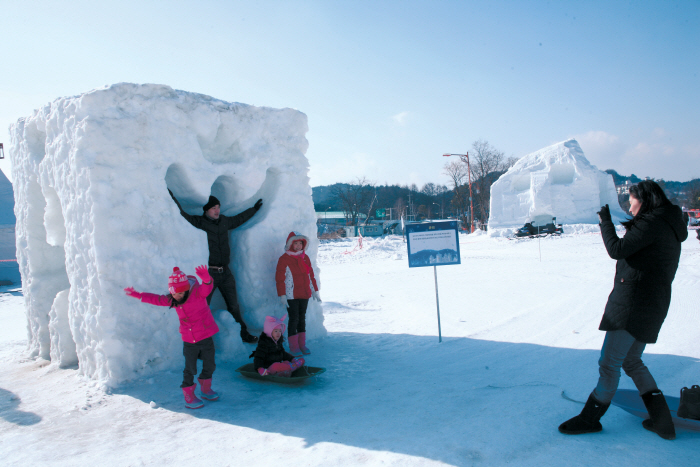 The Daegwallyeong Snow Festival is held in the Hoenggye-ri area, which is located in Daegwanryeong-myeon, Pyeongchang-gun, Gangwon-do. The festival starts with a fireworks display, followed by various programs such as a singing contest, an international naked marathon contest, a singing contest for multicultural families, a climbing competition, snow art contests, a snow literature event, etc.
► Location : Pyeongchang Hoenggye-ri area
► Main programs : Snow sculpture contest/Sledding/Bobsleigh-riding
Taebaek Snow Festival (19 Jan – 11 Feb 2018)
Taebaeksan Mountain Snow Festival presents large-scaled snow sculptures in the national park, Jungang-ro, Hwangji Pond and other downtown areas. Also, various programs like Taebaeksan Mountain Snowflake Hiking Competition, Igloo Café, ice fountain, snow sliding, starlight festival, and more are planned for a fun and fantastic festival.
► Location : 168, Cheonjedan-gil, Taebaek-si, Gangwon-do
► Main programs :Snow sculpture exhibition, opening ceremony, various hands-on program & exhibition, etc
Hold up, you don't know how to visit these amazing festivals? Check out G-Shuttle's one-stop service to transport you to the festival site!
Get ready to come grab the rumble fish and enjoy your lively moment in Gangwon 🙂
Stay tune with us,