The Gangneung Coffee Festival held its first event in 2009 as part of project in making Gangneung, a city of coffee. The festival celebrates the emerging coffee culture of Gangneung-si, which in recent years has welcomed in famous coffee chains and artisan coffee shops. The festival celebrates the scenic city's past and present culture with a variety of coffee-related events such as exhibitions, photo exhibitions, coffee-making and coffee bean-roasting experience programs. Coffee entrepreneurs can also sign up for on-site seminars about the coffee industry.
Outline
Admission/Participation Fees: Free (Some programs may require a fee.)
Period: 6-10 Oct 2017
 Address: 131, Nanseolheon-ro, Gangneung-si, Gangwon-do
Transportation: From the Gangneung Intercity / Express Bus Terminal, take Bus 221. Get off at Anmok (안목, the last stop) and walk to the festival grounds (10-min walk)
Story 1 Tea History in Gangneung and Trace of Heo Family
Historically, Gangnueng is known as the town where people enjoyed drinking tea. The love of tea developed into interest in coffee, now the City has established its own coffee culture. Gangneung is the only city where keeps cultural heritage site of tea culture from Shilla dynasty (57 BC – 935 AD). Hansongjeong pavilion is the place whereby you can find a tea utensil used by Hwarang (Originally a social group in Shilla dynasty, due to the continuous military rivalry between the Three Kingdoms of Korea, they eventually transformed from a group of elite male aristocratic youth into soldiers and military leaders.) community. And records show that people drank tea in many places in Gangneung including Gyeongpo area.
Heo Gyun/Heo Nanseolheon Memorial Park
5 Good Writers in Heo Family (許氏5文章) refers to Heo Yeop – Father / Heo Seong, Heo Bong and Heo Gyun – Sons / Heo Nanseolheon – Daughter that lived in Gangneung in 16th century. They were talented in literature so people called them 5 Good Writers in Heo Family (許氏5文章). Especially, Heo Nanseolheon and Heo Gyun were outstanding. Heo Nanseolheon was a prominent female poet and produced 211 beautiful poems before she died at the age of 27. Heo Gyun was prominent Korean politician and poet, novelist and scholar. Heo Gyun is often credited as the author of the famous Korean story tale of ˹Hong Gildong˼, which in many ways reflects his progressive thinking.
Heo family enjoyed drinking tea same as noble families in Joseon dynasty did. Especially Heo Gyun, knowing how to appreciate arts was a tea lover and wrote many poems about tea.
"…The Sun goes down in the small garden, I am drinking freshly brewed tea in a silver cup. Lotus flowers are on the pond, rain wet roses are in full bloom…"
Heo Gyun/Heo Nanseolheon Memorial Park was built to commemorate these talented sister and brother in 2007. The park consists of birthplace of Heo Nanseolheon and Heo Gyun, memorial hall and traditional tea experience center.
Chohee traditional tea experience center was named after Nanseolheon's given name, Chohee. It opened in December 2012 and Korea Tea Culture Assocation members are promoting Korean tea culture and offering tea ceremony session to visitors.
During tea ceremony session, the instructor explains about tea utensils such as tea kettle, tea cup, cooling bowl and draining tray. And the instructor moves on teaching how to serve tea step by step from pre-heating the tea utensil to brewing the tea. The session is about 20-30 minutes and advised to make a reservation beforehand.
Address: 1-29, Nanseolheon-ro 193beon-gil, Gangneung-si, Gangwon-do
Operating hours: 09:00-18:00 (Closed Mondays)
Admission: Free (Tea ceremony experience 5,000 won)
Gangneung Chodang Dubu Village
Just south of Gyeongpo Beach is Chodang Dubu Village, which is famous for tofu. Along Gangneung's most famous food street the beans are ground for Chodang tofu, then through several steps, salt water from the East Sea is used in the congealing process resulting in a soft and light tofu.
The name of this village, Chodang, originates from the name of a famous person that lived here known as Chodang Heo Yeop. When Heo Yeop was a minister in Samcheok, he made a tofu with sea water of Gangneung and people complimented on tofu's plain and savory taste. That is how it was given a name as Chodang, which is Heo Yeop's pen name.
Address: 99, Chodangsundubu-gil, Gangneung-si, Gangwon-do
Story 2 Coffee Masters (a.k.a. First-generation baristas) in Gangneung 
Bohemian is run by one of the first-generation barista, Park Yi Choo. He started coffee business in Seoul since 1988 and moved to Gangneung in 2000 to spread self-roasting coffee. You can enjoy a fresh cup of coffee brewed by the baristar himself either in Yeongjin or Gyeongpo store.
"The most important thing is you need to make a coffee that you can drink in next 10 years or 20 years rather than following the coffee trend."
Terarosa Café and Coffee Factory originally started as a factory supplying roasted coffee beans for cafes. This café and roasting factory offers nice brunch menu as well as coffee in a unique and refined atmosphere with sophiscated interior design.
Kim Yong Deok, the owner of Terarosa Café dreamed of cultural café. In Terarosa café, you can see many visitors reading books, writing or talking with others. Even Terarosa café hosts a small concert every year.
"Terra rossa means red clay soil in Portuguese and it is called as 'a land of hope' in Brazil. It's important to build coffee culture, that's why I decided to create cultural space together with a coffee factory."
Anmok Coffee Street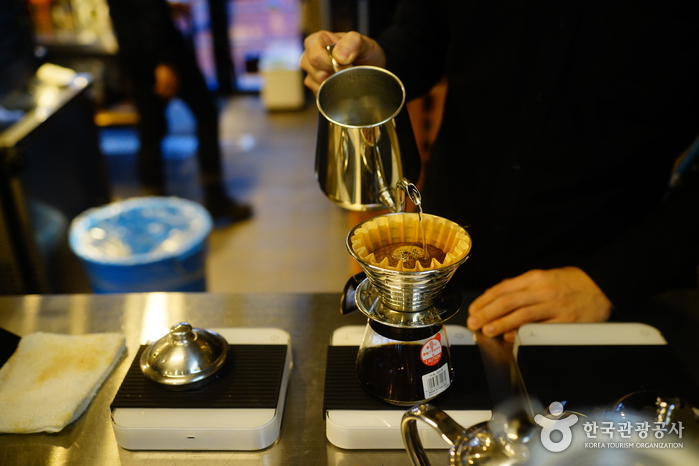 The street where visitors used to watch the ocean holding cups of coffee from vending machines slowly transformed into a coffee heaven attracting coffee chain stores and café owned by baristars. Each café in Anmok Coffee Street offers its own specialy coffee and dessert menus so there is a vast variety that you can choose from. Particularly, terrace seats facing the coastal line of the East Sea of Korea are popular among visitors. Furthermore, you can find coffee vending machines that started this coffee street in numerous spots.
Address: Changhae-ro 17, Gangneung-si, Gangwon-do (Anmok Beach)
Coffee Cupper Museum
This is a place where various and rare coffee relics from around the world are displayed. Visitors can see the history and culture of unique coffees from countries around the world and learn about, understand and experience the world of coffee. Visitors can also visit the coffee farm where coffee beans were grown and produced for the first Korean coffee for commercial purposes.
Address: 2171-17, Wangsan-ro, Wangsan-myeon, Gangneung-si, Gangwon-do
Operation Hour: 9:30-19:00
Admission Fee: 5,000 KRW for adult/ 4,000 KRW for underage (4-19 years old)
Program Fee: 10,000 KRW per program (Coffee roasting, Hand-dripping, Espresso Extraction, Planting activity, Chocolate activity)
How to visit Gangneung Coffee Festival? Click below to find G-shuttle service for your convenient trip planning 🙂
Stay tune with us,