Peace of Mind : Temples in Gangwon
Dear all,
Looking for a temple to bring a peace of mind to you? Here we introduce 4 major temples in Gangwon 🙂
Pyeongchang : Woljeongsa Temple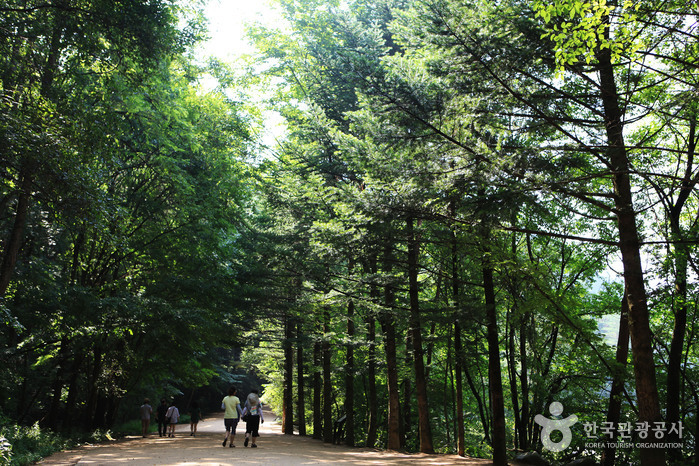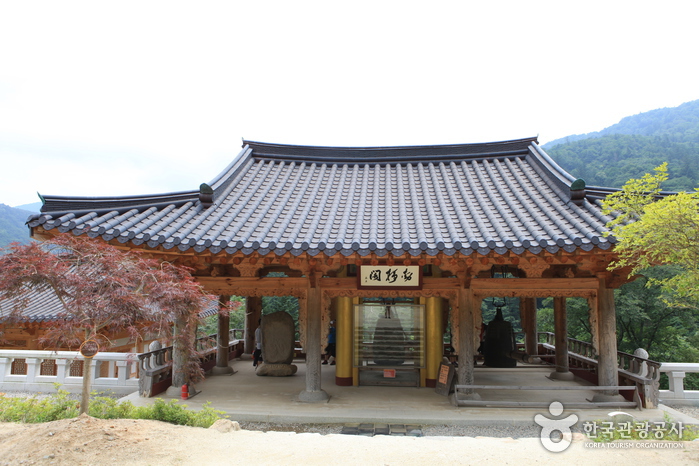 Woljeongsa Temple is located in the forest of the valley east of Mt. Odaesan, and it is composed of 60 temples and 8 monasteries made into one large temple. Woljeongsa Temple was established by Monk Ja Jang (590~658). At Woljeongsa Temple there is the Seongbo Museum where you can view the Buddhist culture of the Goryeo Dynasty (918∼1392), the nine-story octagonal pagoda, also called as the Sari-Pagoda (relic pagoda), and the Stone Seated Buddha figure. Also there is the Jeokmyeolbogung where Buddha's bones are said to be preserved, and the large sermon hall Jeokgwangjeon Pavilion. Usually in a Jeokgwangjeon Pavilion the Vairocana figure is enshrined, but it is interesting that the Sakyamuni figure is enshrined at Jeokgwangjeon Pavilion at Woljeong temple. Woljeongsa Temple of today was restored after the Korean war in 1950 when the Chilbulbojeon, Yeongsanjeon, Gwaneungjeon, Jinyeonggak and 17 other buildings were burned. Many cultural assets and historic data were lost at this time. The Silla Dongjong, which was excavated from the Seonrimwon site in Yangyang-gun, was also lost. The Budo site (relic site) and sagoji (historic document storage) is nearby Woljeongsa Temple. The Budo site is a 15-minute walk from the Woljeongsa Temple to its location at the Sangwonsa Temple, just before crossing the Banya Bridge. Here there are 22 pagodas that hold the remains of the monks who had lived here. Sagoji is an hour's walk from Woljeongsa Temple towards Sangwonsa near Yeonggamsa Temple.
Address: 63, Dongsan-ri, Jinbu-myeon, Pyeongchang-gun, Gangwon-do
Activity Information
[Temple Stay]
-Duration: 1 night 2 days (14:00 – the next day 09:00)
-Eligible applicant: Korean and foreign visitors (ages 15 and over)
-Available program: temple tour, tea ceremony, Barugongyang, Buddhist service, making prayer beads, zen meditation, consultation with monks, 108 bows, etc.[Temple Life]
* Youths temple life
-Eligible applicant: Korean students (Middle/High school)
-Duration: Every third Saturday (09:30-12:30, reservation only)
-Program: temple historical lesson, tea ceremony, zen meditation, making lotus lantern, lunch is included.* Group temple life (Korean/Foreigners)
-Duration: 1 day program (approx. 2.5 hrs – 3 hrs)
-Eligible applicant: Korean and foreigners
-Program: temple tour, tea ceremony, making lotus lantern, zen meditation, Buddhist service, making prayer beads, consultation with monks, 108 bows, etc.* Thursday temple life
-Duration: 1 day program (approx. 2.5 hrs – 3 hrs)
Operating Hours
05:00-21:00
Yangyang : Naksansa Temple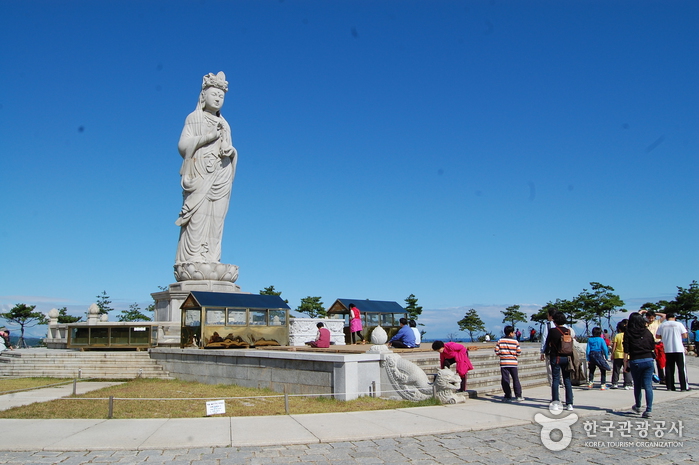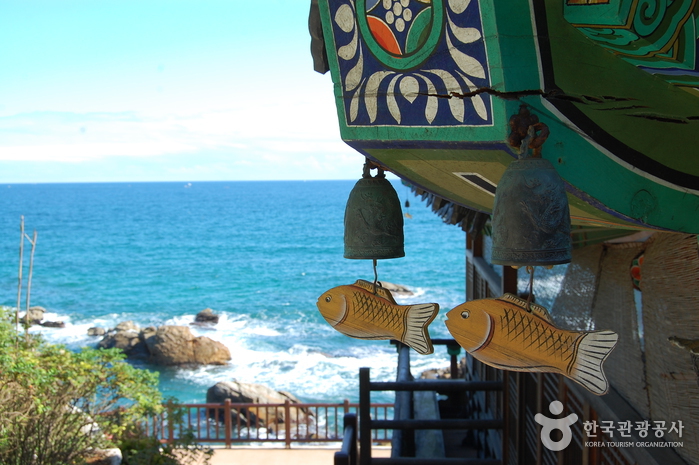 Naksansa Temple is located 4 km north of Naksan Beach, and boasts a 1,300-year history. It is a temple built by Ui-Sang, the ambassador of the 30th King of Silla Period (57 BC- 935 AD), and inside is the Seven Story Stone Tower, Dongjong, Hongyaemun, together with several other cultural assets. It was named Naksansa Temple by Ui-Sang, at the spot where he learned the prayer Gwansae-eumbosal from Bosal, after he returned from studying abroad in the Chinese Tang Kingdom. It was rebuilt several times afterwards, and the current building was erected in 1953.
You can get to Naksansa Temple by passing through Iljumun and Hongyaemun Gates. When you enter the temple from Hongyaemun Gate, you can see black bamboo trees and tiled earthen walls on either side of the sanctuary. North of Naksan Beach, beside the copper bell is a back door, with a path that leads to Uisangdae Pavilion and Hongryeonam. Uisangdae is a pavilion built on top of a cliff by the sea, and was built where Ui-sang used to sit and meditate. Hongryeonam is known as a small Buddhist temple, built above a stone cave by Ui-sang. Under the sanctuary floor there is a 10 cm hole through which you can peak through to view the sea. Past Uisangdae Pavilion, up the path on the hill at Sinseonbong, there is a stone statue of Buddha called Haesugwaneumsang. It is the largest of its kind in the Orient, and can be seen from as far as Mulchi Harbor.
Address: 100 Naksansa-ro, Ganghyeon-myeon, Yangyang-gun, Gangwon-do
Activity Information
[Naksansa Temple Stay]
* Experiential Program "Ask for directions on the street"
* Retreat Program "Follow your dreams"
* Experiential Program "Find the bluebird 2"
Wonju : Guryongsa Temple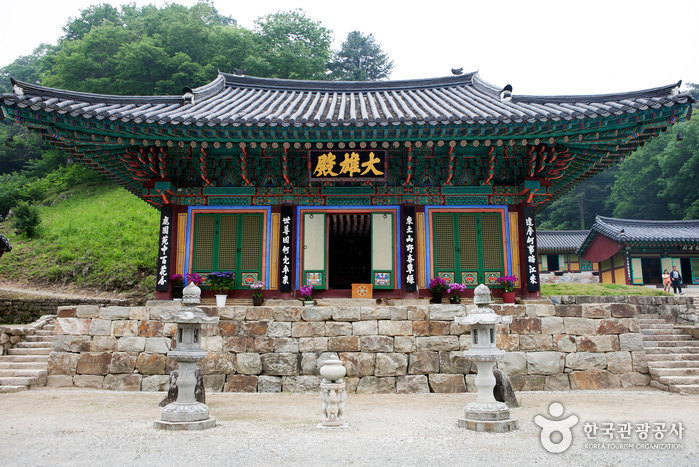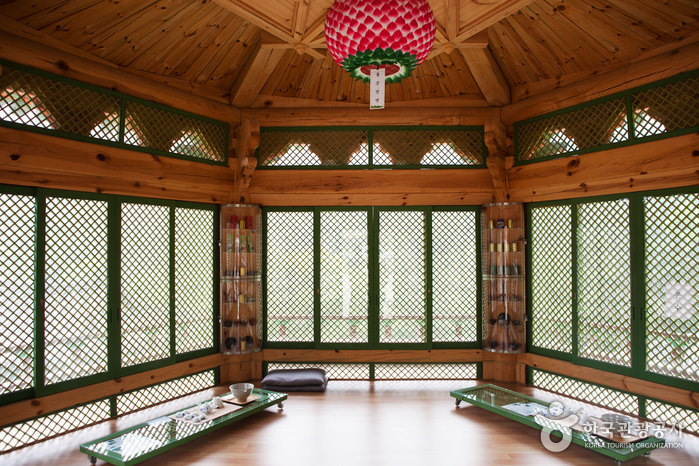 Guryongsa Temple (구룡사) is located 6km from Birobong Peak on Chiaksan Mountain, in the direction of Hakkok-ri. Monk Ui Sang (625~702) of the Silla Kingdom (BC 57~AD 935) built and named the temple Guryongsa in 668 (during the reign of King Moon Mu: reign 661 ~ 681). However, it is now known that the temple was built after King Sukjong, the 19th King of Joseon Dynasty (1392~1910), who reigned from 1674 to 1720, because of the architectural style of the Daewoongjeon Shrine. There is a legend that the Guryongsa Temple site was originally a lake where nine dragons lived. The name Guryong comes from the story that the lake was filled up to build the temple on it. There are many shrines such as Daewoongjeon, Bogwangnu, Samseonggak, Simgeomdang and Seolseondang. Daewoongjeon has maintained its original shape though it was repaired many times. Daewoongjeon is a wooden building with the basic Dapojip style in the Joseon Era. The shape of the building is a Chinese character (八), with three rooms in the front and two rooms on the side and built without any nails. It is designated as Tangible Cultural Property No.24. We can see the characteristics of the Buddhist statues in the Joseon Period though the Samjonmokbul inside Daewoongjeon. With the Seokgamuni figure in the center and two Bosal statues on each side harmonize the structure of the building, and there are many other Buddhist artifacts in the temple such as Bogwangru and others.
Address: 500, Guryongsa-ro, Socho-myeon, Wonju-si, Gangwon-do
Activity Information
[Guryongsa Templestay]
Retreat Program / Experiential Program- Geumgang Forest Experience Temple stay Program
Chuncheon : Cheongpyeongsa Temple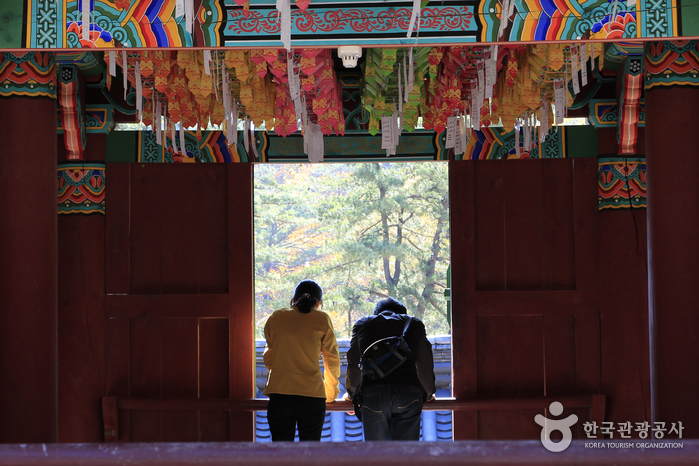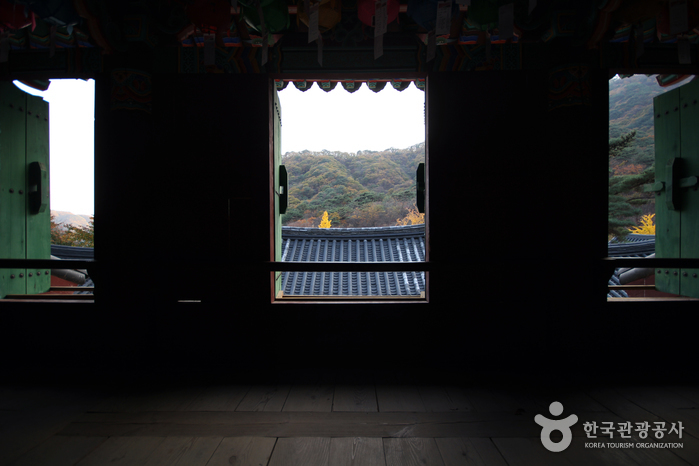 Cheongpyeongsa Temple is located on the beautiful misty slopes of Obongsan Mountain, and can be reached after enjoying a 10minute ferry ride from Soyang Lake Ferry Dock. The temple was built in 973 during the reign of King Gwangjong of the Goryeo Dynasty. In the sixth year of Goryeo King Seonjong (1089), Lee Ja-hyun stepped down from his government post and came to Cheongpyeongsan Mountain to retreat from the world and enjoy peace. In his time on the mountain, Lee created a vast garden near Cheongpyeongsa Temple. Trapesoidal stone walls surround the garden to create a square shape when viewed from outside, and water from the valley was redirected into the garden to form a pond that would reflect the image of Obongsan Mountain.
During the Korean War, Gugwangjeon and Saseongjeon of the temple were damaged, but the Cheongpyeongsa Revolving Door (Treasure No.164), which symbolizes the transmigration of Souls, and Geukrakbojeon remains today. Near Cheongpyeongsa Temple is Cheongpyeongsa Valley, which is known for its clean water and Guseong Waterfall, known to make nine different sounds.
Address: 810, Obongsan-gil, Buksan-myeon, Chuncheon-si, Gangwon-do
Activity Information
Temple stay (reservation required; see official website for details)
Admission Fees
Individuals – Adults 2,000 won / Teenagers 1,200 won / Children 800 won
Groups – Adults 1,700 won / Teenagers 1,000 won / Children 500 won
Stay tune with us, Gangwon