Let's catch Pokemon in Sokcho!
Dear all, do you play Pokemon Go?
Recently, Sokcho city in Gangwon has become the greatest tourism issue in Korea as of now. The bus ticket for Sokcho has been sold out due to the boom of Pokemon Go!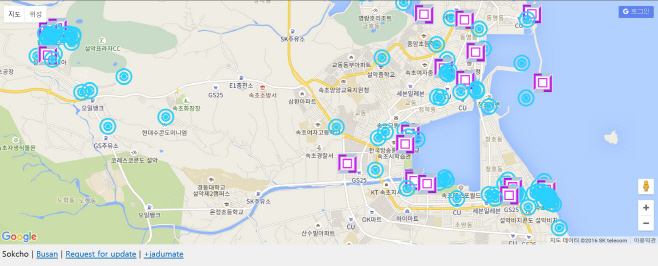 (Pokemon spots on Sokcho map)
Even the singer, Jung Joon Young also joined Pokemon Go play in Sokcho! He posted his picture on instagram and commented that he has set the target of this year as ˹Pokemon Master˼ as well!
Wait, you haven't heard about Sokcho city yet? Sokcho is gifted with a picturesque scene so as to be called a 'gift from god'. All scenery of Mt. Seorak in 4 seasons, vast East Sea, a thousand-year-old lake and hot springs can be appreciated here. Let's go for Pokemon hunting spots and tourist spots together!
Sokcho Expo
If you plan to go to Sokcho to catch Pokemon, then you better visit Expo Tower because it is known as a holy land of Pokemon You won't even notice your day passing by if you catch the Pokemon while enjoying the walk under the warm weather in the daytime and the great night view.
-Opening Hours: 09:00 – 21:30
-Entrance Fee: Adult 1,500/ Adolescent 1,200/ Schoolchild 800
-Webpage: https://www.sokchotour.com/
Sokcho Jungang Market
Sokcho Tourist & Fishery Market is known for its fresh seafood straight from the East Sea, Jeotgal (salted seafood), and Sokcho specialties such as Ojingeo Sundae (Stuffed Squid) and Abai Sundae (North Korean-style Sausage). And of course, the signature item will be fried chicken in Jungang Market!
How to go? Get off at Sokcho Tourist & Fishery Market after taking a bus 9-1 at Sokcho Terminal.
Daepohang
The Raw Fish Center at Daepohang Port is the first location to feature live fish stalls on Korea's eastern coast and is the largest of its kind. As shops specializing in raw fish or dried fish are placed along the 500m-long fishing port, raw and dried fish can be purchased at a great price. The fried shrimps are super crispy and delicious!
How to go? You can take a bus 9-1 at Sokcho Terminal and get off at Daepohang Bus Stop. Walk about 300m towards Daepohang Port.
Mt. Seorak
There is a saying, "You cannot but fall in love with Seoraksan that embraces human beings." Seoraksan is also called 'uncomparable beauty', and shape of towering mountains and rocks and emerald-colored water flowing through falls and valleys create such magnificent scene. Moreover, you can see the blue water of the East Sea from Seoraksan. On top of such excellent natural environment, there are many tourist facilities and convenience facilities such as hot spring, ski resort, and hotel. Every year, approximately 30,000 visitors come to enjoy Seoraksan, which is why it is the biggest tour and leisure destination in Korea.
-Entrance Fee: Adult 3,500/ Adolescent: 1,000/ Schoolchild: 500
-Webpage: seorak.knps.or.kr
How to go? You can take bus no.7, 7-1 (15-20 min. interval) at Sokcho Intercity Bus Terminal, and get off at the entrance of Seoraksan National Park
Alive Heart Museum
Alive Heart Museum is an indoor theme park opened in 2015 and the main theme is to bring an exciting experience to modern life people who are repeating the same in a daily life . It appeals to the visitors with 50 unique photo zones, band road and other dynamic experience.
-Opening Hours: 10:00 – 18:00
-Entrance Fee: 12,000 (Dynamic Maze or Alive Heart) / 18,000 (Dynamic Maze + Alive Heart)
-Webpage: www.aliveheart.co.kr
Sokcho city government also has understood the volume of Pokemon game users visiting Sokcho city and set the plan to support such as distributing the Pokemon map, introducing the ˹holy spot˼ of Pokemon and building the photo zones 🙂 And Sokcho city will work on site inspection and traffic management to prevent any accident happening.
Shall we go for Sokcho this coming Summer holiday to hunt Pokemon? Have fun and safe trip!
Stay tune with us,