Latest K-Drama's shooting location in Gangwon
Dear all,
Year end is around the corner but brand new Korean dramas with unique story and interesting characters keep on coming out. Here we introduce the scenes taken in Gangwon and great shooting locations making story more fantastic. Of course, there are great tourist spots nearby the shooting location too!
Guardian: The Lonely and Great God (쓸쓸하고 찬란하神 – 도깨비)
Guardian: The Lonely and Great God (쓸쓸하고 찬란하神 – 도깨비) also known as Goblin, is broadcasted on tvN channel every Friday and Saturday and become popular through interesting story line and amazing casts! This Iconic scene in the teaser film that Goblin (Gong Yoo) appeared to Euntaek (Kim Go-eun) was taken in Jumunjin beach (주문진) in Gangneung city whereby many tourists choose as the best holiday destination. By the way, have you seen such a good looking goblin before? 😀
Jumunjin Beach (주문진)
Jumunjin Beach (주문진 해수욕장) is located in the northern-most part of Gangneung, and is a great place for family vacations due to the beach's shallow water. The flat bottom and clear water make it easy to gather clams and to fish at the nearby lake. You can also easily purchase low-priced, fresh seafood because of its proximity to Jumunjin Harbor. Jumunjin Beach is a medium-sized beach characterized by fine sand and unusually blue water. Many dark colored rocks and stones are visible as well, which are interesting sites for tourists visiting the beach. The fine view of pine trees behind the white sands only accentuates its beauty.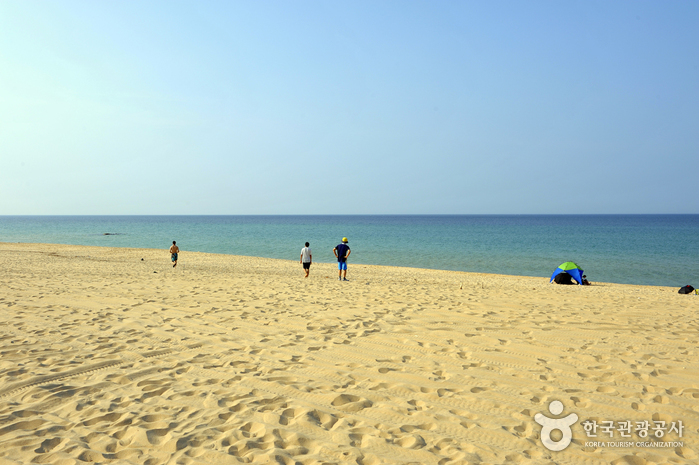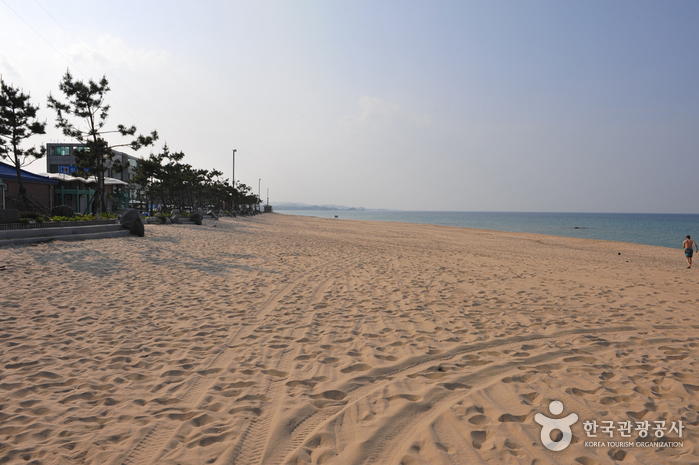 Jumunjin Seafood Market was founded in 1936 and is situated in Gangneung next to Jumunjin Port, home to a large fleet of squid boats. It is the largest seafood market on the East Coast and includes a dried seafood market and a sashimi center. The market is a favorite among both Koreans and international visitors.
Market specialties include a variety of fresh seafood caught on the East Coast such as squid, mackerel, pollacks, pikes, and crabs. At the market, visitors can purchase these items (and a number of dried seafood products) at inexpensive prices, as well as get a taste of fresh, delicious sashimi. In addition, the market hosts a variety of fun events such as the Blowfish Festival and Squid Festival.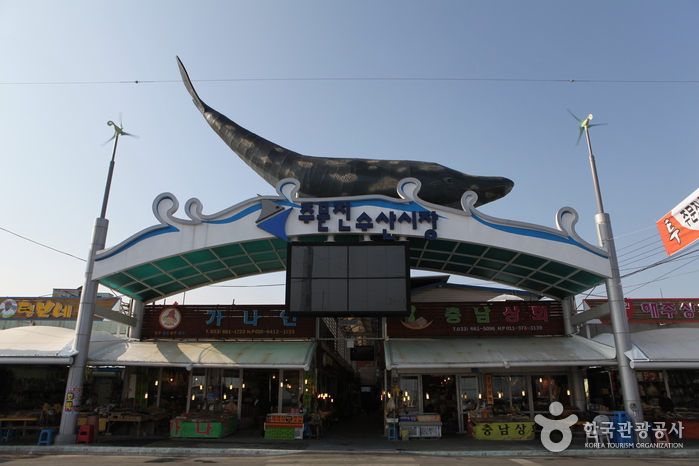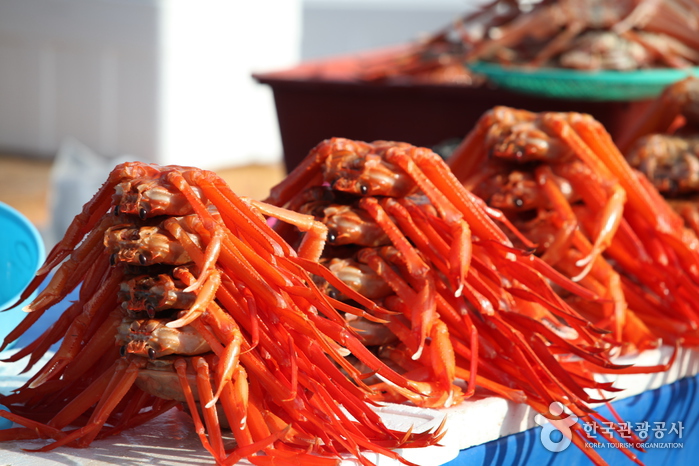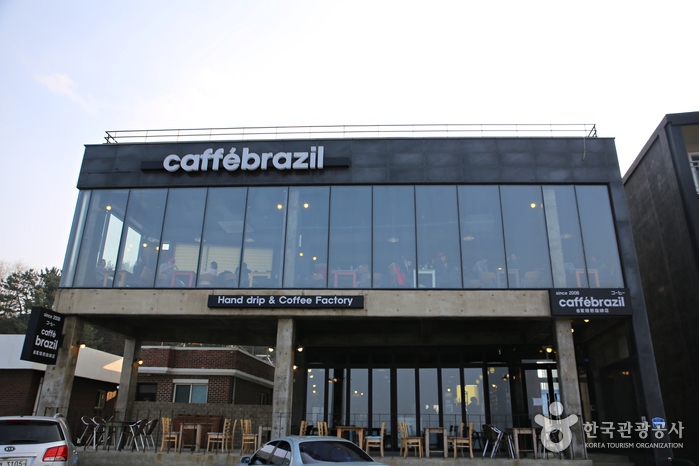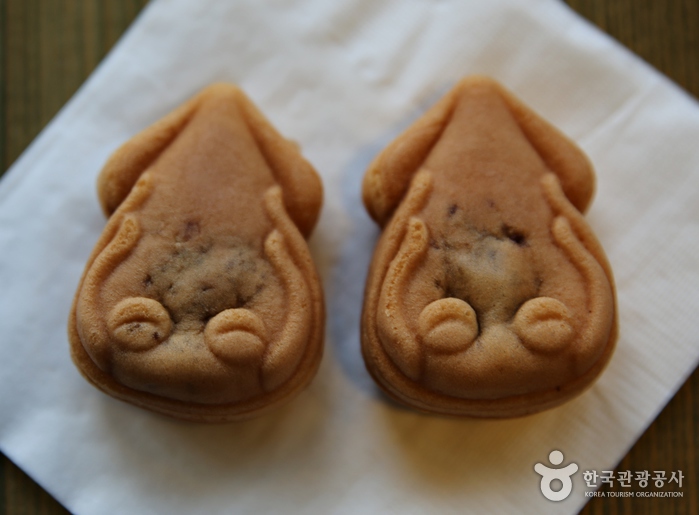 Romantic Gangneung is a city of coffee. Don't forget to try hand-drip coffee and squid-shaped bun (it contains sweet red bean together with squid powder and real squid meat! Surprisingly it tastes so good :)!)  in Gangneung. For more details about Gangneung, click the posting about Gangneung city!
The Legend of Blue Sea (푸른 바다의 전설)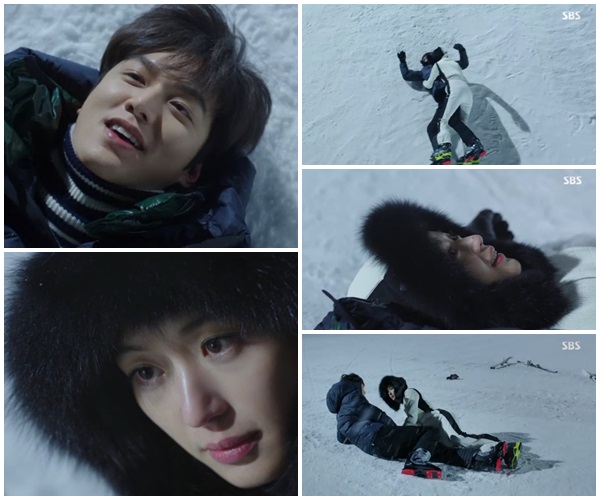 The Legend of Blue Sea talks about fantasy romance of a mermaid and a human guy inspired by the tale <어우야담 (Eo Woo Ya Dam)>. In episode 6, Joon Jae (Lee Minho) and Sim Chung (Jeon Jihyun) went to ski resort to see snow together and had a happy skiing time. I guess many of you thrilled watching while watching the scene that Joon Jae and Chung rolled on ski slope with following Joon Jae's saying "I love you." to Chung, right? ;p
Daemyung Vivaldi Park (대명비발디파크)
This romantic ski scene was taken in Daemyung Vivaldi Park which is a leisure complex having water themed park, golf club and horse riding club as well. Along with a good accessibility from Seoul area, many visitors continuously find Daemyung Vivaldi Park. And did you know it's only 1.5 hours away from Seoul and you can have a FREE shuttle service from Seoul? Click HERE to go to FREE shuttle reservation page, you may make a day trip to enjoy the skiing time and great facilities!
Ski festival titled VIVA SKI FESTIVAL is a collaboration of Korea Tourism Organization, Gangwon province and Daemyung Vivaldi Park. Uniquely Viva K-Food festival is a combination of ski training and Korean food experience. In this festival, you can learn skiing as well as attend Korean food cooking class. And of course, you will have a chance to try the street food styled snack as Tteokbokki and others also 🙂 Please click the banner to find more details.
For who is looking for HOT vs COLD experience in this Winter season, come join the contest by Daemyung Vivaldi Park to win away the prize! (Please note that the contest is only available for Malaysian nationality holder.*) Please click the banner to be linked to contest page.
Come on over to Gangwon to follow your favorite character's foot trail 🙂
Stay tune with us,