Jeongseon Arirang: Sorrowful yet beautiful Soul in Korea
Dear all,
Who has heard about Arirang, the soul of Korea? This traditional folk song in Korea is to represent the sorrowful feeling of Korea and Jeongseon county in Gangwon is the original place of Arirang song and has developed the song throughout generations. Here is a quite interesting story about how Jeongseon Arirang was spread over to all the regions in Korea, shall we take a look?
"Gyeongbokgung Palace Reconstruction : Jeongseon Arirang spread out nationwide."
In 1867, during the regency of Daewongun (Prince Lee Ha Eung), father of Gojong (Last emperor in Joseon Dynasty), Gyeongbokgung palace buildings were reconstructed and formed a massive complex with 330 buildings and 5,792 rooms. Standing on 4,657,576 square feet of land, Gyeongbokgung again became an iconic symbol for both the Korean nation and the Korean royal family.
For this major reconstruction of 7 years, workers throughout the country were called in to Hanyang (Seoul's old name) in order to work on the site. Workers sang many work folk songs together to relieve stress and comforted themselves. Among many songs, Jeongseon Arirang was most popular as it has a nice chorus part to sing along as "Arari-Arirang". After palace reconstruction was completed, workers went back to their hometown and Arirang song was spread over all the regions in Korea. In the process, it is said to have given rise to the "Jeongseon Arirang," the "Miryang Arirang," and today's most representative "Arirang,"  the "Gyeonggi Arirang".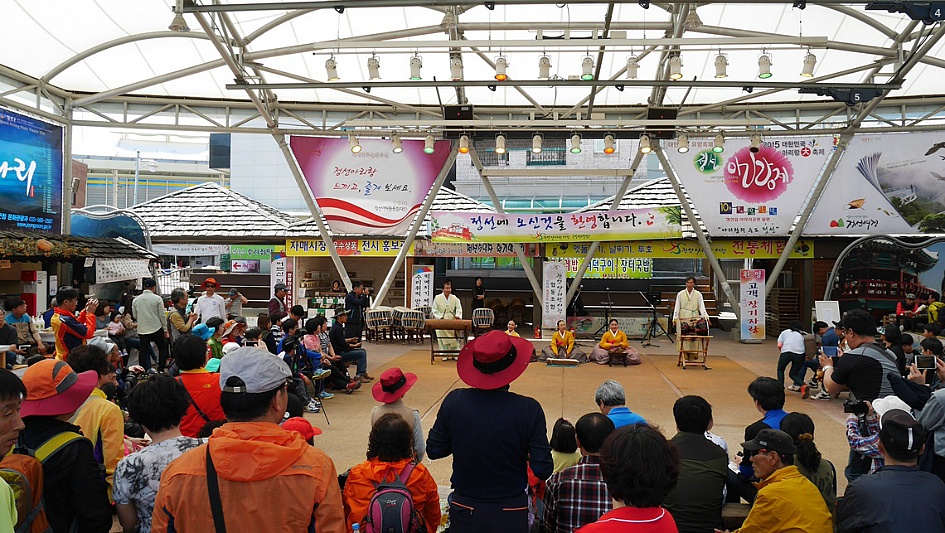 Throughout dramatic modern Korean history with sorrowful moments as colonial period and Korean war, Arirang as a symbol of Korea has been together with people comforting the heartbrokenness and sharing the happiness and sadness all the time. Let's feel a deep sorrow in Jeongseon Arirang sung by Ms. Kim Young Im, the master singer in the video below.
Jeongseon Arirang Festival (29 Sep-2 Oct 2017)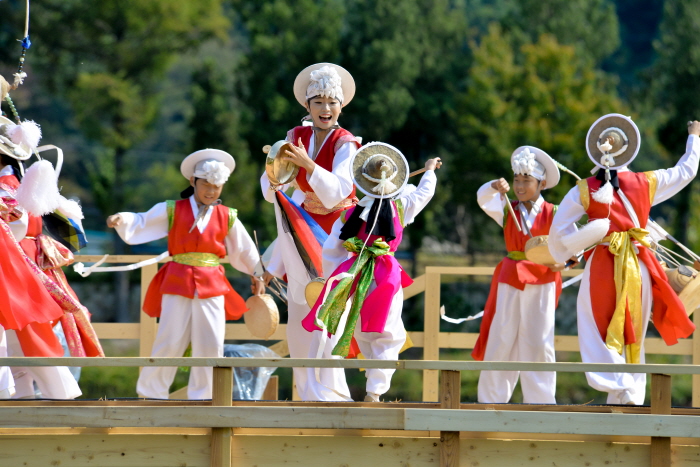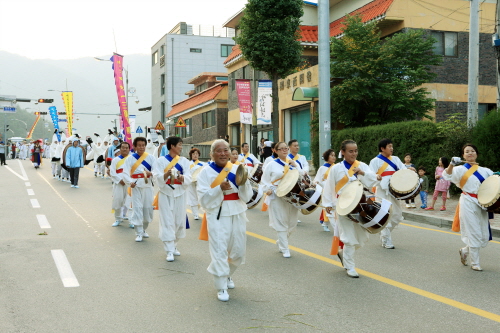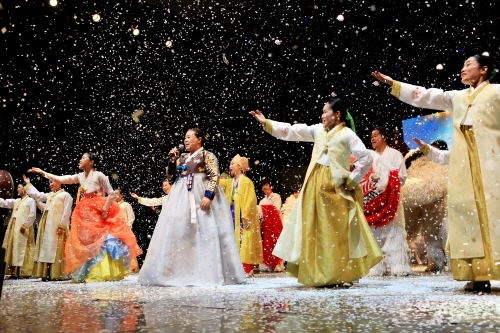 The Jeongseon Arirang Festival was started to preserve the 'Jeongseon Arirang', an intangible cultural asset, and to pass along its culture to following generations. Main event is to experience famous 'Arirang' folk song, and there are many other events and programs.
29 Sep-2 Oct 2017
112, Bongyang10-ri, Jeongseon-eup, Jeongseon-gun, Gangwon-do 강원도 정선군 정선읍 봉양리 112 (정선읍)
http://www.arirangfestival.kr/
How to go?
GoGoGangwon bus has a direct ride from Seoul to Jeongseon Arirang Festival site 😉
Auraji River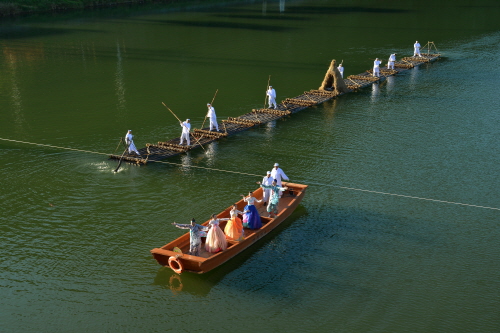 Auraji is the name of a lake that Jeongseon Arirang originated. The area has long been famous for its beautiful, clean mountains and rivers. Its name is derived from the Korean word '어우러지다 eoureojida,' meaning 'to meet' as the waters of Pyeongchang and Samcheok unite in this area.
Part of the upper stream of Namhangang River, Auraji was a famous starting point of log rafts transporting timber to Hanyang, the original name of Seoul. The lyrics of Jeongseon Arirang reveal the sadness and longing of a woman awaiting her husband who left for business to a far-away place or left to transport timber. Today, numerous tourists visit Auraji to enjoy its great scenic views or to see the symbol of a maid who, gazing into the river, seems to be waiting for her lover to return.
69, Auraji-gil, Jeongseon-gun, Gangwon-do 강원도 정선군 여량면 아우라지길 69 (여량면)
Jeongseon 5 Days Market
Jeongseon 5 Day Market is one of the major local market in Korea and opens every 2nd, 7th, 12th, 17th, 22nd, 27th. In the market, visitors can experience the lively bustling atmosphere of a Korean folk market and purchase agricultural produce at low prices. Its specially featured product is the Goraengji, a vegetable that grows in mountainous regions or on plateaus at 500~700m above sea level. Buckwheat noodles is a must-eat item in this market. This noodle has another name as Kotdeungchigi (hit the nose), because people would pull on the noodles too hard when eating and get hit in the nose.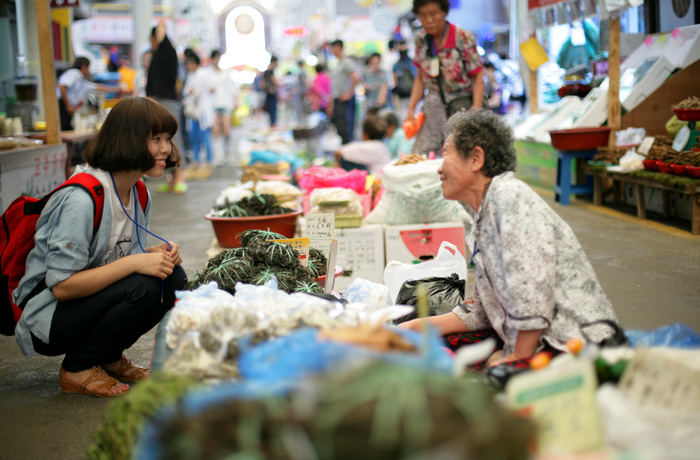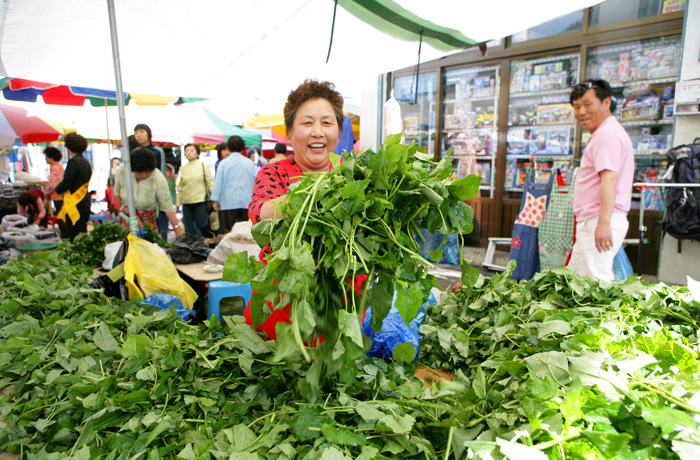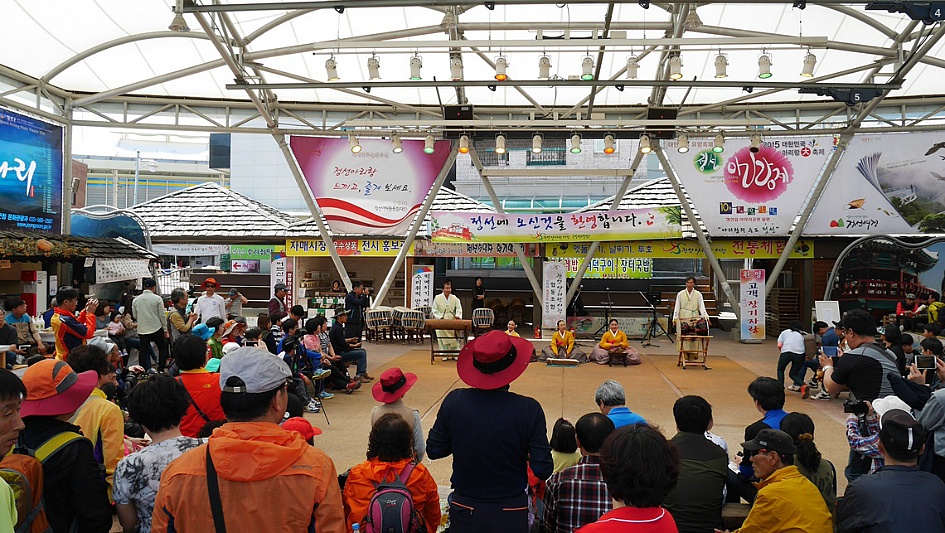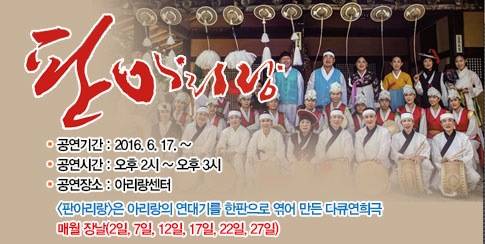 And also on the market day, you will be able to watch the musical performance titled <판아리랑 Pan Arirang> in Arirang center as well. The show in 3 parts will explain Arirang's story to you together with rhythmical and enjoyable music!
58-1, Bibong-ro, Jeongseon-eup, Jeongseon-gun, Gangwon-do 강원도 정선군 정선읍 비봉로 58-1 (정선읍)
Arii Hills : Byeongbangchi Sky Walk and Zip Wire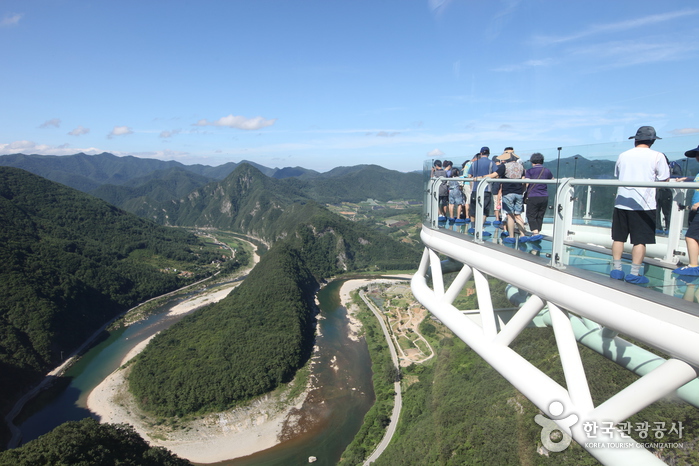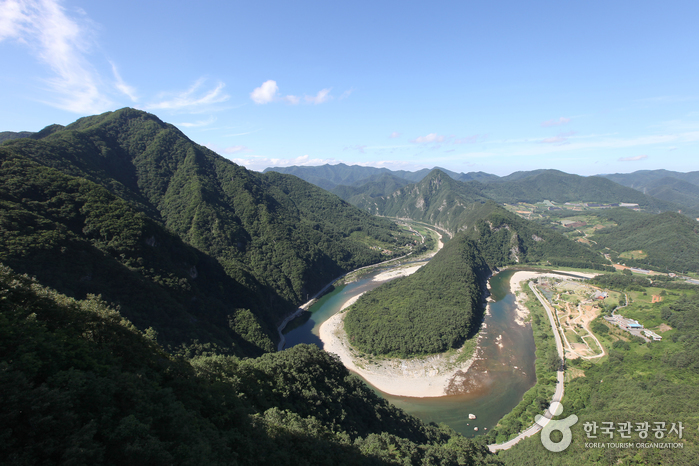 Byeongbangchi Observatory is located in the between Gyuram-ri and Buksil-ri in Jeongseon-eup and features breathtaking views surrounding Bamseom Island whose shape is like the Korean peninsula with streams of Donggang River. Byeongbangchi Skywalk experience offers a thrilling experience as it gives a feeling of walking in the sky thanks to the tempered glass on the 'U' shaped structure (11m) projected from the cliff at altitude of 583m. From this observatory, tourists can see the beauty of Bamseom Island and Donggang River, making it an attractive point to visit.
225, Byeongbangchi-gil, Jeongseon-gun, Gangwon-do 강원도 정선군 정선읍 병방치길 225
Admission Fees Adults (ages 19-64) 2,000 won / Teenagers & Children (ages 7-18) 1,000 won
Zip wire Fees: 40,000 won
Would you like to feel the sorrow of Jeongseon Arirang this coming Oct? If you will be in Jeongseon, you may visit the filming sites of <Descendants of the Sun> via A (Arirang) -Train as well 🙂
Stay tune with us,