How to travel from Seoul to Gangwon
Dear all, how can we travel to Gangwon from Seoul with intercity bus or train? Here are transportation hubs in Seoul that you need to know to travel to Gangwon.
Bus
(1) Dong Seoul Terminal
Dong Seoul Bus Terminal is a bus terminal located in 50 Gangbyeonyeokro (Gu-wi dong 546-1), Gwangjin-gu, Seoul, South Korea. It is in front of Seoul Subway Line 2 Gangbyeon Station.
It was constructed in 1987, and established in 1990. One if the station goal was to serve the new Jungbu Expressway. The terminal is operated by Dong Seoul Terminal Operations Corp, but the company is owned by Hanjin. This terminal uses two national terminal codes, buses which go to Chungchung and Gyeongsang uses code 031, and which go to Gangwon and Jeolla uses 032. This terminal is heavily used by soldiers from multiple military bases in Gangwon Province.
Time schedule / ticket price for travelling from Dong Seoul to major cities in Gangwon
*referred naver.com
Dong Seoul – Sokcho
Dong Seoul – Gangneung
Dong Seoul – Hoenggye (PyeongChang)
Dong Seoul – Jeongseon
(2) Seoul Express Bus Terminal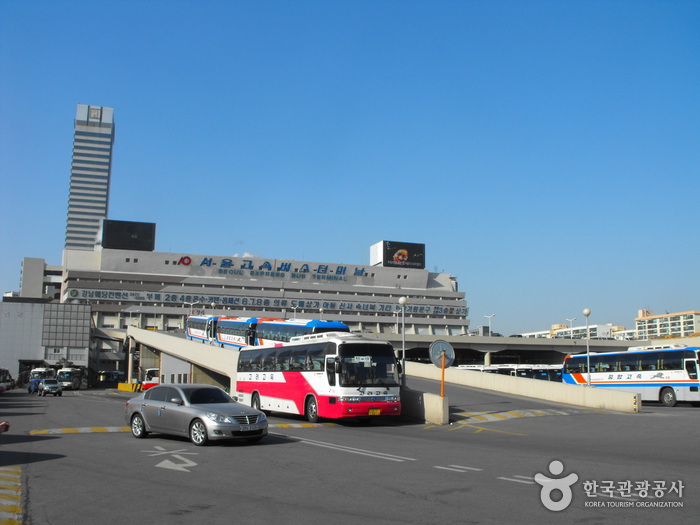 Opened in October 1981, this terminal is located in the Banpo-dong neighborhood of Seoul's Seocho district. The terminal is accessible by three subway lines (#3, #7 and #9) and offers by a wide variety of stores and businesses (retail & wholesale distributors specializing in clothing, wedding planning, window furnishings, and flowers). Within the facility is the Central City Terminal which provides coach bus service from Seoul to cities across Korea.
Train
(1) ITX Cheongchun
The ITX (Intercity Train eXpress) travels from Yongsan Station in Seoul to Chuncheon, Gangwon-do Province in 73 minutes. The train has top speeds of 180km/hour. It departs Yongsan Station on every hour, and Chuncheon Station 10 minutes after every hour. The train stops at four stations: Cheongnyangni, Pyeongnaehopyeong, Gapyeong, and Namchuncheon. It also stops at Sangbong Station in Seoul and Sareung and Maseok Stations in Namnyangju during the rush hour on weekdays. Train tickets are available from the ticket machine located at each station. Ticket prices are 6,900 won for Yongsan-Chuncheon and 6,000 won for Cheongnyangni-Chuncheon.
The double-decker train also has convenient facilities such restrooms and a nursing room for mothers.
Take ITX and meet Chuncheon city tour bus to bring you to top attractions in Chuncheon. For DKWY campaign participants, you can have a free ride coupon for Chuncheon city tour bus.
(2) KTX
Korea Train eXpress (KTX) is South Korea's high-speed rail system, operated by Korail. KTX operates from Incheon International Airport with stops at Seoul Station and Yongsan Station towards Busan and Gwangju. A new terminal in Seoul's Gangnam District is under construction at Suseo Station which is scheduled to open in 2016 along with intermediate stations in New Dongtan City and Seoul Subway Line 1's Jije Station in Pyeongtaek. A new line from Wonju to Gangneung is under construction to serve the 2018 Winter Olympics in Pyeongchang.
For stations and rate information, please click the link below 🙂
With KTX Wonju Gangneung ― Travel further, faster and smarter in 2018
(3) A-Train
The train opened on January 22, 2015, from Cheongnyangni Station in northeastern Seoul and passes through several stations in Gangwon-do, including Mindungsan and Jeongseon, which hosts the "Jeongseon Five-day Market", and arriving at Auraji Station.
The "A" in the train's name comes from "Arirang" (a Korean folk song), and the words "amazement" and "adventure". The song has many variations, and the Jeongseon Arirang is a regional one. The song is listed as an Intangible Cultural Heritage by UNESCO and sometimes regarded as an unofficial anthem of Korea.
Stations: Cheongnyangni Station – Mindungsan Station – Byeoleogok Station – Sonpyong Station – Jeongseon Station – Najeon Station – Auraji Station
Fare (One-way) : Cheongnyangni – Auraji 27,600 won
Check out Jeongseon Arirang and 5 days market to visit by A-Train!
(4) DMZ Train
The Gyeongwon Line Course departs from Seoul Station and makes stops at Hantangang River and Sintan-ri Stations before finally arriving at Baengmagoji Station. Excluding Tuesdays, the train runs once per day (round-trip). Visitors can feel the scars of war when they visit the Cheorwon Korean Workers' Party Headquarters and Seungilgyo Bridge, along with a tour around one of the city's top scenic locations, Goseokjeong National Tourist Area, and other famous attractions of Cheorwon County.
Stations: Seoul – Cheongnyangni – Uijeongbu – Dongducheon – Hantangang – Yeoncheon – Sintan-ri – Baengmagoji
Fare (One-way) : Seoul-Baengmagoji 12,800 won