Healing Wonju City : Get your stress away!
Special Program < Wonju Dynamic Dancing Carnival>
Hi all, how are you releasing your stress? Are you looking for a healing trip for yourself? If so, come over to Healing city, Wonju in Gangwon! Wait, you don't know where Wonju is? Wonju city is an innovative city whereby Korea Tourism Organization's headquarter is. Located only 1 hour away from Seoul by train or bus, this city is well-harmonized of healing natures and fun activity!
In September, Wonju Dynamic Dancing Carnival with the fever is waiting for you. During festival period of 6-11 Sept, total 42 teams from all over the world will participate for dance competition to win away the grand prize valued 100 million USD!
Wonju Dancing Carnival (6-11 Sept, 2016)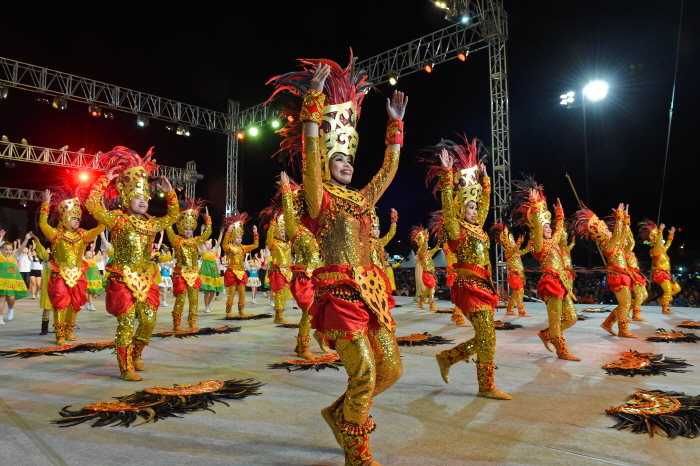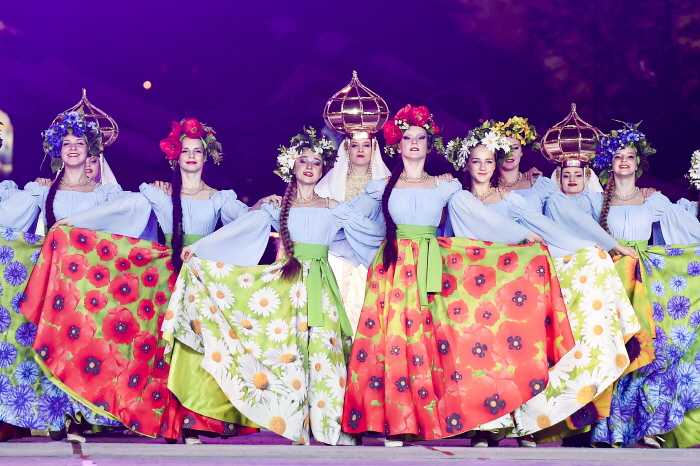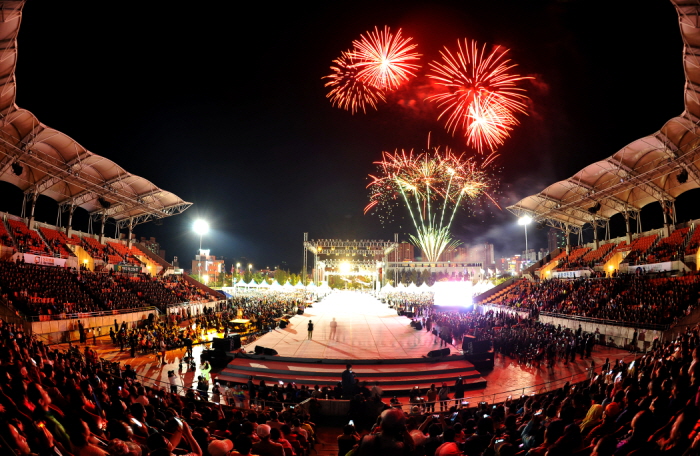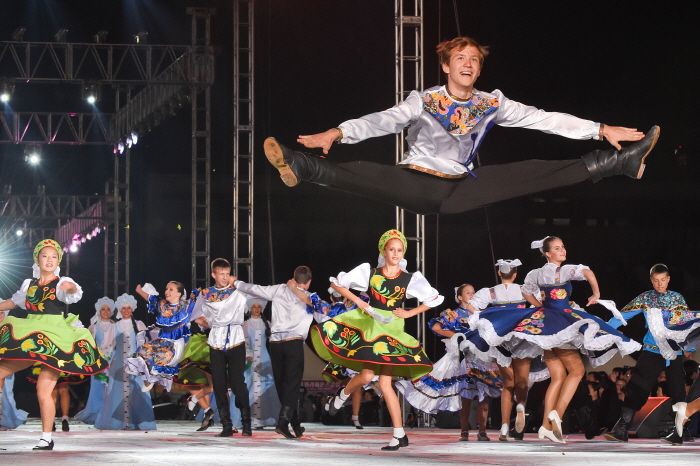 The festival's main program 'Dancing Carnival' is the nation's biggest and longest street parade festival, featuring a variety of folk dances and magnificent military marching parade from international teams across the globe, as well as the local citizens' passionate performances. Many other additional events including the Green Safe Playground and Fringe Festival performances are also available for all visitors to the festival to enjoy.
09.06.2016 ~ 09.11.2016
170, Dangu-ro, Wonju-si, Gangwon-do 강원도 원주시 단구로 170 (명륜동)
Tattoo Theater, Youth Square, Wonil-ro Street, Culture Street
How to go?
GoGoGangwon bus has a ride from Seoul to Wonju Dynamic Dancing Carnival as well though but every seat is fully booked due to high demand :S But don't worry, here is how you can reach from Seoul to the festival site.
[Bus]
From Dong Seoul or Seoul Express Bus Terminal, take a bus bound for Wonju.
From Wonju Intercity/Express Bus Terminal, take Bus No. 2-1 from the bus stop opposite the bus terminal and get off at Jonghap Sports Complex Bus Stop.
Or, take a taxi to the festival venue (Estimated travel time: about 6-min).
[Train]
From Cheongnyangni Station, take a train to Wonju.
From Wonju Station, take Bus No. 51 and get off at Wonju Hospital Bus Stop.
Or, take a taxi to the festival venue (Estimated travel time: about 13-min).
Has the fever from the Dynamic Dancing Festival killed your stress? Let's continue your healing trip in Wonju!
Chiaksan National Park
Chiaksan National Park  was designated as a national park in December 1984. For years Chiaksan has inspired hikers with its towering mountain sides and magnificent deep valleys. Its was once referred to as "Jeokak," but the name has since changed over time, due in large part to a mythical story. There once a man that rescued a pheasant from being eaten alive by a snake. When the man later found himself in danger, that pheasant saved his life in return. Because of this story the name became "Chiaksan(雉岳山)."
Bugok-ri, Gangnim-myeon, Hoengseong-gun & Hoekgok-ri, Socho-myeon, Wonju-si, Gangwon-do 강원 원주시 소초면 학곡리, 횡성군 강림면 부곡리
Guryongsa Temple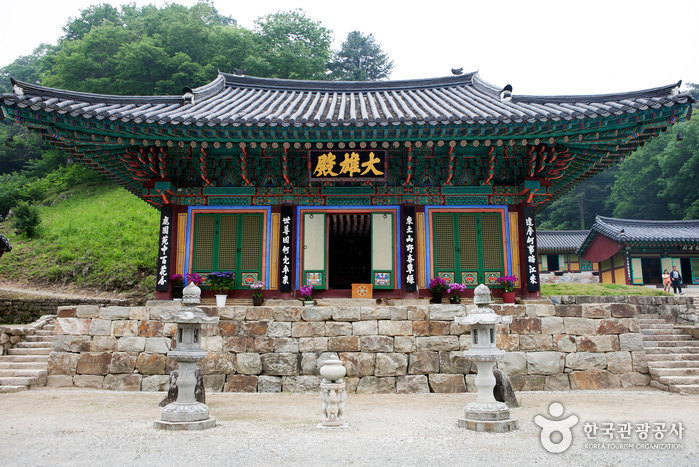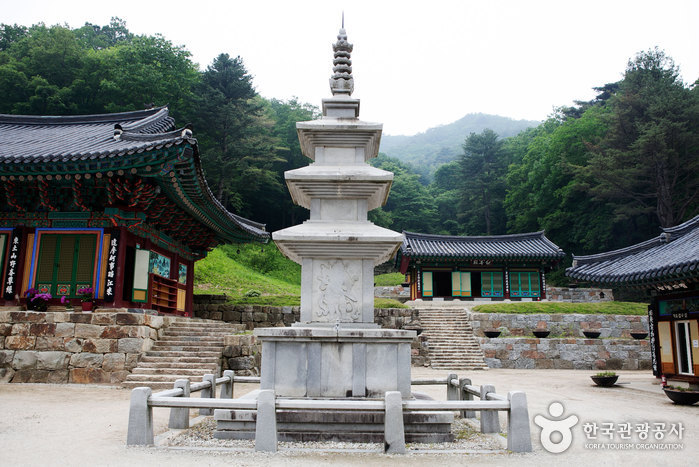 Guryongsa Temple (구룡사) is located 6km from Birobong Peak on Chiaksan Mountain, in the direction of Hakkok-ri. Monk Ui Sang (625~702) of the Silla Kingdom (BC 57~AD 935) built and named the temple Guryongsa in 668 (during the reign of King Moon Mu: reign 661 ~ 681). There is a legend that the Guryongsa Temple site was originally a lake where nine dragons lived. The name Guryong comes from the story that the lake was filled up to build the temple on it. There are many shrines such as Daewoongjeon, Bogwangnu, Samseonggak, Simgeomdang and Seolseondang. Daewoongjeon has maintained its original shape though it was repaired many times. Daewoongjeon is a wooden building with the basic Dapojip style in the Joseon Era. The shape of the building is a Chinese character (八), with three rooms in the front and two rooms on the side and built without any nails. It is designated as Tangible Cultural Property No.24.
500, Guryongsa-ro, Socho-myeon, Wonju-si, Gangwon-do 강원도 원주시 소초면 구룡사로 500 (소초면)
Wonju Rail Park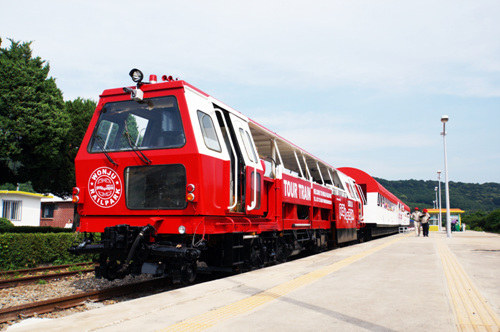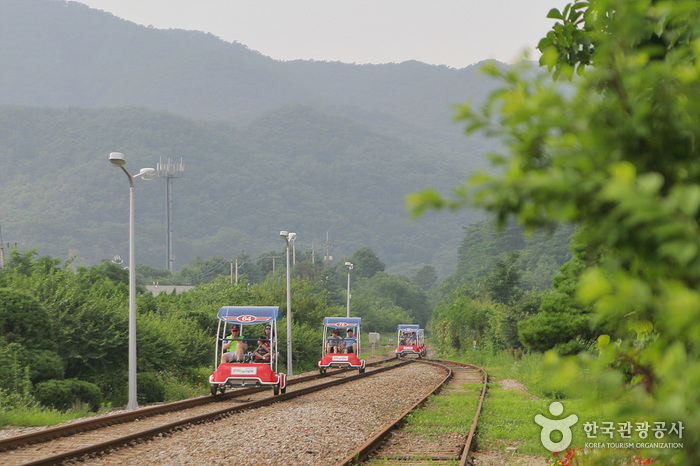 In Wonju Rail Park, you will be able to take a train from Ganhyeon station to Pandae station and transit to rail bike and run back from Pandae station to Ganhyeong station. The course is not hilly so it's easy to run the bike and you can enjoy the beautiful scenery. Total journey will cost about 1.5 hours including 20 minutes (train) and 40 minutes (rail bike).
2 seaters (25,000 KRW) / 4 seaters (35,000 KRW)
163 Ganhyeong-ro, Jijeong-myeon, Wonju-si, Gangwon-do 강원도 원주시 지정면 간현로 163 (지정면)
Even Song triplets in <Superman Returns> have come here to ride a rail bike with their daddy 🙂
Pungsuwon Catholic Church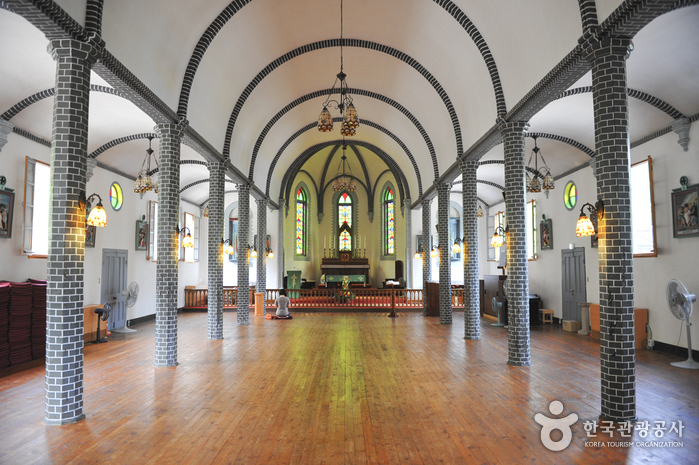 Pungsuwon was the first catholic village in which over 40 faithful from Yongin (Gyeonggi-do), led by Sin Tae-bo (or St. Peter), settled to escape the wrath of Sinyubakhae (religious persecution of Catholics) of 1801.
Over a period of 80 years, the settlers had led their religious lives without a priest until Father Le Merre (a French priest) came to the village in 1888. Succeeding Le Merre in 1896, Father Jeong Gyu-ha (or Augustino), along with Chinese engineers, began to build Pungsuwon Cathedral. Completed in 1907 by the faithful, the cathedral still remains a beautiful building; it is a popular spot for visitors, having frequently appeared in Korean dramas and films. It is the first cathedral built by a Korean priest as well as in Gangwon-do; it is the fourth cathedral built in Korea. Pungsuwon Cathedral was designated as Gangwon-do Local Cultural Property No.69 in 1982.
30, Gyeonggang-ro yuhyeon 1-gil, Seowon-myeon, Hoengseong-gun, Gangwon-do
Wonju Herb Farm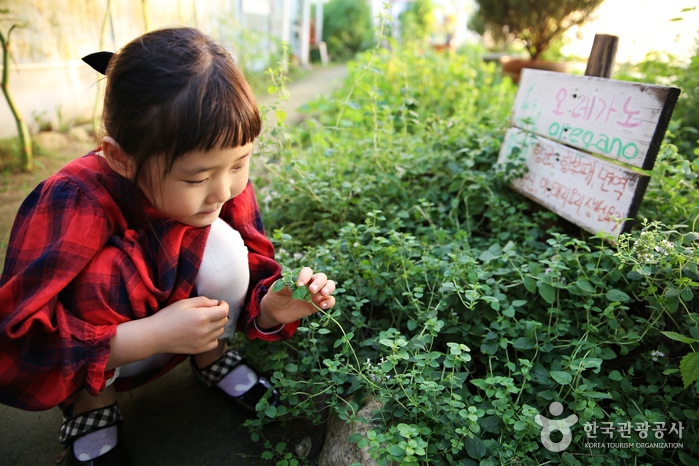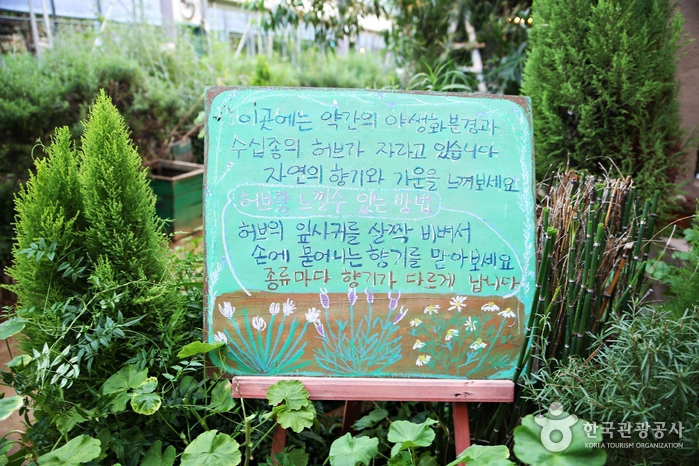 Wonju Herb Farm is the first botanical garden in Gangwon having more than 1,000 different kind of plants. Beside the herb, you will be able to appreciate the wild flowers, trees and lotus flowers as well.
37, Majang 2 gil, Wonju-si, Gangwon-do 강원도 원주시 마장2길 37 (무실동)
Opening hour 10:00-19:00 (Monday closed)
7,000 KRW (adult) / 6,000 KRW (Teens)/ 5,000 KRW (Children)
Relax yourself and say goodbye to your stress in healing Wonju!
Stay tune with us,