Gangwon FC : Pride of Gangwon
Dear Football fans, Spring has come together with K-league 2017 season 🙂 Today we introduce you Gangwon FC, football team in K-league based in Gangwon province.
History : How passionate Gangwon people are about football
1970-present THE GANGNEUNG HIGH SCHOOL DERBY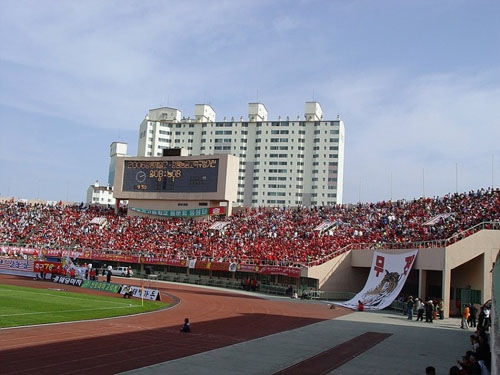 Gangneung people's major festival will be Gangneung Dano Festival together with Gangneung high school derby between Gangneung Commercial School and Gangneung Agriculture High School. The clash between Gangneung's two premier high school teams is the highlight of the Gangwon-do football scene. The game is part of the annual Gangneung Festival; reported to have more street stalls than any other festival in Korea.
Debut Season – 2009 
Gangwon played its first ever K-League match against Jeju United on 8 March 2009, at Gangneung Stadium, winning 1–0 with a decisive goal from Yoon Jun-Ha. With this victory, they became the first ever team to win their debut game in K-League. Gangwon FC continued their winning start to the season with a further four victories on the trot and causing a sensation in the first half of 2009 K-League. Unfortunately Gangwon was unable to maintain their initial success, and by round 19 had fallen into the lower half of the league table. By the conclusion of their first season in the K-League, they placed 13th of fifteen clubs.
In the 2009 Korean FA Cup, Gangwon entered the competition in the round of 32 stage, and defeated their first opponent Incheon Koreail FC in a penalty shootout after a 2-all draw. They then faced the Chunnam Dragons, losing 1:0. The club fared little better in the 2009 K-League Cup, finishing bottom of their group with only a single win (against Daejeon) to show for their efforts.
2010-2014 Difficult Period and First Ever Relegation
Gangwon FC had a difficult season in 2010, even though first striker Kim Young-Hoo scored 13 goals in the league. The club finished 12th out of 15 clubs. The 2011 season was the worst season since its establishment. Gangwon finished last in the league and the entire team only scored 14 goals in thirty matches.
In the 2013 season of K-League Classic, the first historical season in which K-League imposed compulsory relegation of bottom three teams and where the team that finished third from the bottom had to play the promotion-relegation playoffs against the champion of 2013 K-League Challenge, the second-tier league, Gangwon finished the season in the third place from the bottom inside the
relegation zone, subsequently lost to Sangju Sangmu Phoenix over the two-leg relegation playoffs, and was relegated to the K-League Challenge.
2016 We will be back
Gangwon FC earned a promotion to South Korea's top pro football league for next season. Gangwon played to a 1-1 draw against Seongnam FC on Sunday in the second leg of the promotion playoff at Tancheon Stadium in Seongnam, Gyeonggi Province. Gangwon and Seongnam had a scoreless draw in the first leg in Gangneung, Gangwon Province, on Thursday. The two teams were tied on aggregate score after two matches, but Gangwon edged out Seongnam on away goals. Gangwon returned to the top flight K League Classic for the first time since 2013. Seongnam, seven-time champions of the Classic, was relegated to the second tier K League Challenge for the first time.
Gangwon FC head coach Choi Yun-kyum (father of Minho, SHINee) was tossed in the air by the players after Gangwon edged out Seongnam FC to earn promotion to the first division K League Classic next season.
Supporters <Narcia>
Gangwon FC's supporters, Narcia is famous with fan loyalty. Gangneung city's population is only 220,000 though, more than 15,000 spectators gathered in Gangneung stadium in every match. In Gangwon FC's match, you can feel traditional vibe in Korea such as team song which is converted version of Jeongseon Arirang and passionate supporting by old ladies. Many elderly groups in Gangwon have a network to support Gangwon FC.
Home Stadium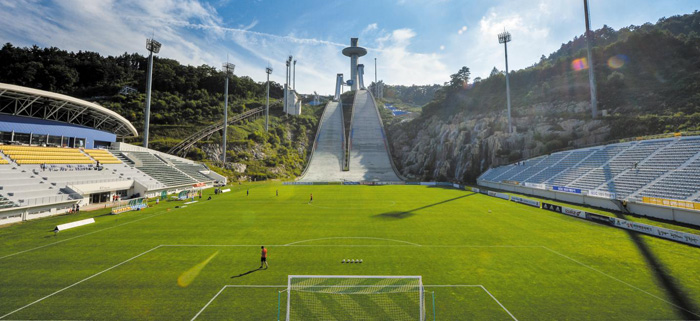 Gangwon FC's home stadium was Gangneung Stadium for 2009-2016. Starting from 2017 season, new home stadium has set as Alpensia Ski Stadium. Some of you might have noticed it though football stadium is right next to ski jumping tower 🙂 Stadium is holding 13,500 seats and shuttle service from Seoul, Chuncheon, Wonju, Gangneung and other area. Shuttle Bus Spot (Only in Korean)
Current Squad (2017 Season)
| No. | | Position | Player |
| --- | --- | --- | --- |
| 1 | | GK | Song Yoo-geol |
| 4 | | MF | Oh Seung-bum |
| 5 | | DF | Valentinos Sielis |
| 6 | | DF | Ahn Hyun-sik |
| 7 | | MF | Moon Chang-jin |
| 8 | | MF | Hwang Jin-sung |
| 9 | | FW | Jung Jo-gook |
| 10 | | FW | Diego Maurício |
| 11 | | MF | Lee Keun-ho |
| 12 | | FW | Lim Chan-wool |
| 13 | | MF | Kim Min-joon |
| 14 | | DF | Oh Beom-seok |
| 15 | | DF | Park Chun-ho |
| 16 | | MF | Ahn Soo-min |

No.
Position
Player
17
MF

Kim Kyung-jung

18
MF

Kim Seung-yong

19
DF

Lee Yong

20
DF

Kang Ji-yong

22
DF

Jung Seung-yong

23
GK

Lee Bum-young

26
MF

Park Yo-han

28
MF

Lương Xuân Trường

(on loan from HAGL)
40
FW

An Joong-keun

55
MF

Yoo Cheong-in

77
MF

Baek Jong-Hwan

81
DF

Park Sun-ju

88
MF

Serginho
Club House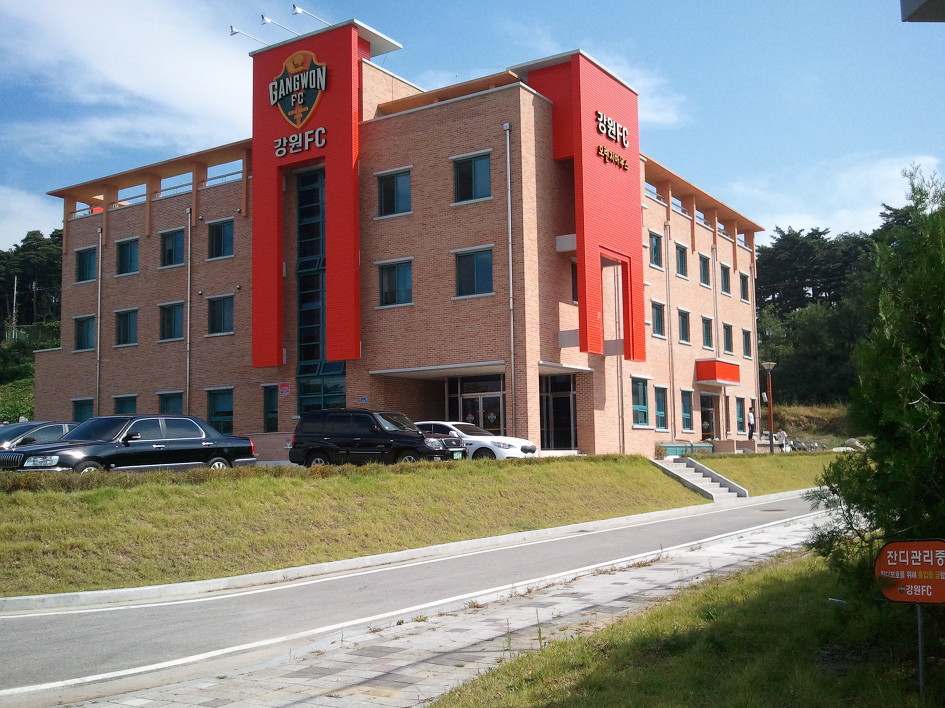 Gangwon FC's club house named Orange House is located in Gangneung city. Click link below to find more information about Gangneung 🙂
New Supporters' song – GOHAM
Gangwon FC has released a music video with new supporters' song, GOHAM  🙂 Let's take a look!
Shall we go watch Gangwon FC's match in Spring season?
Stay tune with us, Gangwon