Female Traveler in 19 Century wrote about 8 famous spots in Eastern Korea
Kim Geumwon (1817~?), the female poet in 19 Century was born in Wonju in Gangwon Province. Her parents found her being smart so let her study classical books and texts although she was a girl (Women were not encouraged to study but advised to learn housework more that time). She felt unsatisfied with the fact that she was born as a woman to live a limited life – But this free-spirited girl dreamed of travelling outside to visit beautiful nature places and writing a poem about places.
When she was only 14 years old, she convinced her parents to allow her to travel alone and departed (She dressed in male attire since women were not allowed to travel alone that time.) to Eastern part of Korea.
"…I am determined to go. I finally have a permission from my parents for my plan. It was very difficult to have their permission, I feel free as a bird flying to the blue sky from a birdcage and a horse running for 1,000 miles without a bridle and a saddle…"  
– 호동서락기 湖東西洛記 : Ho-Dong-Seo-Rak-Gi (1850)
She walked more than 1,000 km and spent more than 1 month to visit many places such as Jecheon, Danyang (Chungcheongbukdo Province), Goseong, Sokcho, Gangneung, Samcheok (Gangwon Province), Uljin (Gyeongsangbukdo Province) and Seoul.
When she was 34 years old, she wrote her travelogue <호동서락기 湖東西洛記 : Ho-Dong-Seo-Rak-Gi> to talk about her travel 20 years ago. She described destinations and scenery in details as well as her impression about places in her own beautiful and unique style. Especially her description about 관동팔경 關東八景 : 8 famous spots in Eastern Korea is telling us how beautiful the nature view was over there even in 19 century.
관동팔경 關東八景 : 8 famous spots in Eastern Korea
Gangwon Province
Goseong Cheongganjeong
Gangneung Gyeongpo
Samcheok Jukseoru
Yangyang Naksansa
Gyeongsangbukdo Province
Uljin Mangyangjeong
Uljin Wolsongjeong
Kangwondo Province (North Korea)
Goseong Samilpo
Tongcheon Chongseokjeong
So let's follow foot trail of Geumwon who was brave to find out her identity and make her presence felt as a female artist.
(1) Goseong Cheongganjeong Pavilion
"…Cheonggangjeong pavilion is alongside the ocean. There is a stone shaped like a crawling turtle in the ocean in front of pavilion…I was waiting for moon rise while sitting on the pavilion… Shining moonlight came out from cloud and brightened up the view… it was like opening a new horizon and refreshed my mind. I asked for a tea and wrote a poem on the pavilion…"  
– 호동서락기 湖東西洛記 : Ho-Dong-Seo-Rak-Gi (1850)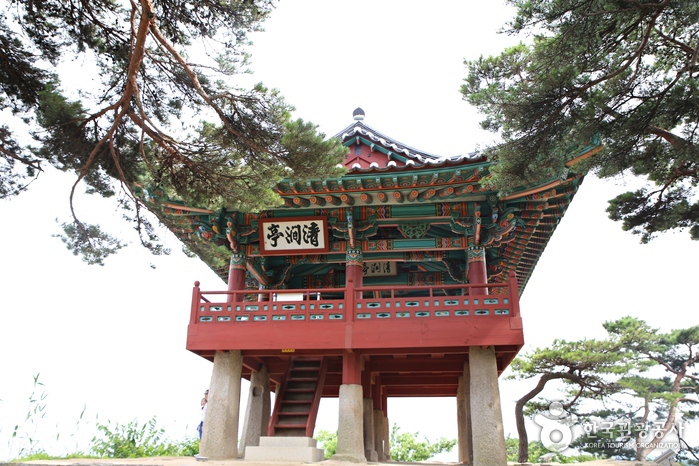 Cheongganjeong Pavilion, built above a cliff with a small octagonal roof, is one of the eight view points of Gwandong where you can see the sunrise from Seoraksan Mountain. The scenery during sunrise and sunset offers a remarkable view of the waves coming in like clouds and going like fog. The builder and the date of accomplishment are unknown, but it is estimated that it was built before the 15th year of King Jungjong's reign. After, King Hyeonjong visited in the 3rd year of his reign, and he wrote the sign wood himself with the name "Cheongganjeong". At the present time, the signed wood plate is lost and it does not pass down.
5110, Donghae-daero, Toseong-myeon, Goseong-gun, Gangwon-do
(2) Gangneung  Gyeongpo Lake and Gyeongpo Beach
"It is a calm lake like a mirror… Blue mountain is like an embroidered silk and ocean sand is like a gem. Old pine trees stand high and green willows are standing side by side. Nightingales are singing and red sweetbriers are blooming, the beautiful view is indescribable…"
– 호동서락기 湖東西洛記 : Ho-Dong-Seo-Rak-Gi (1850)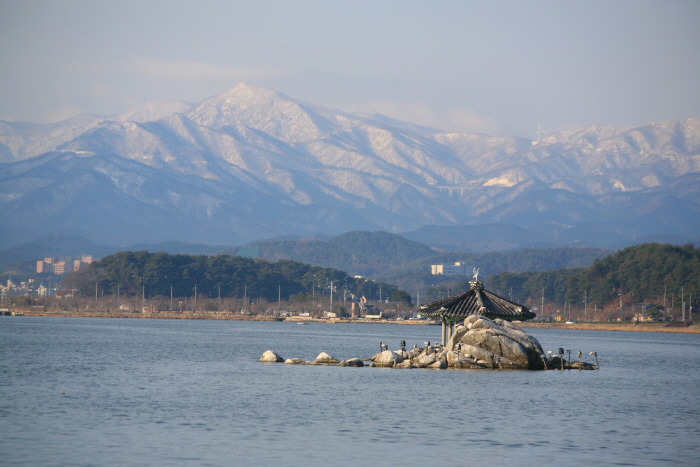 Gyeongpoho Lake, which means "clear as a mirror", is located 6km northeast of Gangneung, and is also called Gunjaho Lake. Gyeongpoho Lake was formed when the mouth of a bay was closed by sand and pebbles brought in by the sea currents. It is famous as a destination site for migratory birds. It used to be a large lake with a circumference of 12km, but it diminished because of the accumulation of dirt and sand.
Jeo-dong, Unjeong-dong, Chodang-dong, Gangmun-dong, Gangneung-si, Gangwon-do
Located 1km away from Gyeongpodae, Gyeongpo Beach is a sand bank formed between Gyeongpo Lake and the ocean. This beautiful beach extends to a length of 6 km and is covered with fine sand. It is a very well-known tourist attraction within Korea: a flawless combination of nature and cultural relics.

Gyeongpo Beach is famous for its picturesque sunrise and tranquil moonrise. There are other nearby attractions in the area, like the pine forest (4 km) and wild roses, which grow in various areas around the beach. Those who enjoy ocean fishing can take a boat to the mall rocks just off the beach. There is an endless line of tourists, who come to visit the ancient buildings with their incredible scenery, like Gyeongpodae and Ojukheon. In the spring, the Festival of Cherry Blossoms is held at the entrance to Gyeongpo Beach and in the summer, the Beach Festival and other various cultural events are held.
Gangmun-dong San1 & Anhyeon-dong San1, Gangneung-si, Gangwon-do
(3) Samcheok Jukseoru
"Water from 50 streams are running around Mountain Taebaek and flowing into East Sea... I was hypnotized with nature's mystery and beauty and even forgot to go back…"
– 호동서락기 湖東西洛記 : Ho-Dong-Seo-Rak-Gi (1850)
Jukseoru Pavilion, estimated to have been built around 1266, is one of the eight major attractions of Gwandong District in middle eastern Korea collectively known as Gwandong Palgyeong (eight famous sites).
37, Jukseoru-gil, Samcheok-si, Gangwon-do
(4) Yangyang Naksansa Temple
"…The temple is surrounded by the mountain with pine trees and built over the cliff like hanging in the air. The Buddhist sanctuary is amazing and Buddha statue is covered with a white silk…Ocean meets sky, it's picturesque … Many merchant ships are sailing on the ocean and people staying in coastal line use mortars made of a whale's bone. Seals are seen in ocean side… I waited for Sunrise while watching the ocean… "
– 호동서락기 湖東西洛記 : Ho-Dong-Seo-Rak-Gi (1850)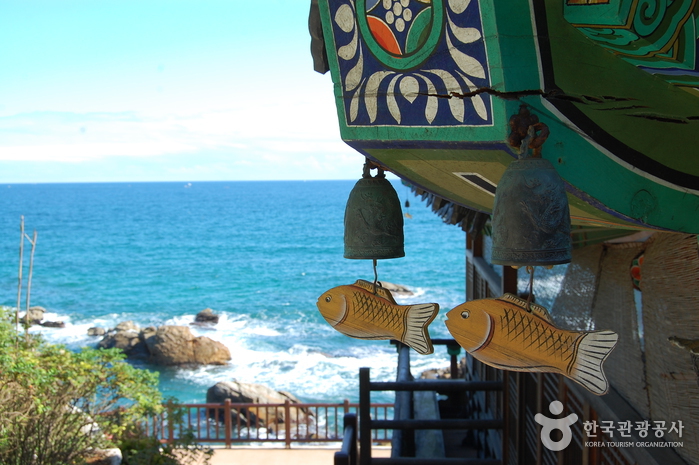 Naksansa Temple, a temple with 1,300-year history was built by Ui-Sang, the ambassador of the 30th King of Silla Period (57 BC- 935 AD), and inside is the Seven Story Stone Tower, Dongjong, Hongyaemun, together with several other cultural assets. It was named Naksansa Temple by Ui-Sang, at the spot where he learned the prayer Gwansae-eumbosal from Bosal, after he returned from studying abroad in the Chinese Tang Kingdom. It was rebuilt several times afterwards, and the current building was erected in 1953.
100 Naksansa-ro, Ganghyeon-myeon, Yangyang-gun, Gangwon-do
---
Geumwon covered 8 famous spots in Eastern Korea but she had a lingering feeling in Eastern part so decided to visit another iconic place, Mountain Seorak.
Sokcho Mt. Seorak
"…Rocks are reaching to the sky and mountain peaks are standing in a row…rocks are white as snow so it's called Seorak (雪嶽: Snow Rock)…Water running in the mountain is cold and clear…azalea flowers are laying over the water in the valley and it looked like a rainbow over the water…I walked up to the top of the hill and water drop from Daeseung waterfall splashed on my face. Waterfall sounded strong as thunderstorm and water drop falling was strong as breaking my rain hat…"
– 호동서락기 湖東西洛記 : Ho-Dong-Seo-Rak-Gi (1850)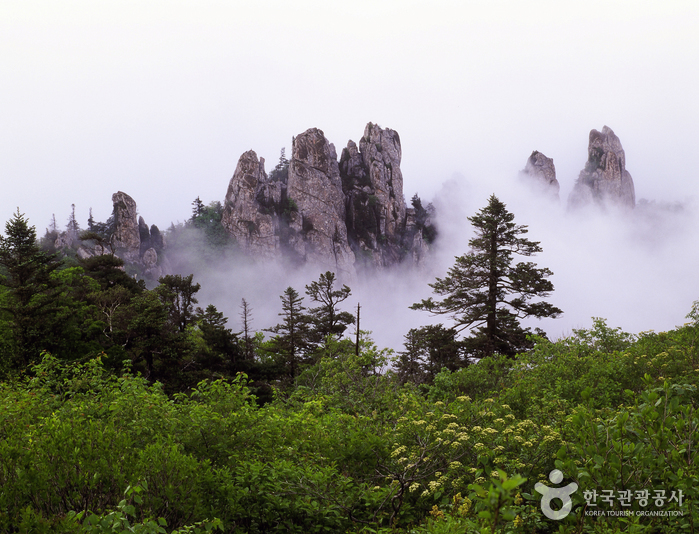 Mt. Seoraksan has multiple hiking courses, valleys and cultural artifacts hiddenin each valley, and are internationally renowned as a habitat for rare plants and animals. UNESCO designated the region in 1982 as a Biosphere Reserve. Mt.Seoraksan was promoted to a Class 2 national park by the international Union for Conservation of the Nature and Natural Resources (IUCN) World Preservation Area Assessment and became a world-class national park.
Seoraksan-ro, Sokcho-si, Gangwon-do
Geumwon headed out to Seoul after visiting Mountain Seorak and left her impression about Gwandong (Eastern part of Korea).
"It's not easy to watch mountain and ocean together and enjoy the beauty of them at once but I have experienced a bizarre over here… Mountain has 12,000 peaks, ocean has a mysterious energy… If you didn't enter Gwandong, there wouldn't be other way to find the perfectness of the world…"
– 호동서락기 湖東西洛記 : Ho-Dong-Seo-Rak-Gi (1850)
Why don't we follow Geumwon's foot trail to find the perfectness of the world in Gangwon?
Stay tune with us,