Aug is full of festivals in Gangwon!
Dear all,
August has come! Let's see what festivals you can go CRAZY in the midst of Summer in Gangwon, get yourself ready to get sun-kissed and soaked!
Yeongwol Donggang Festival (3 – 6 Aug)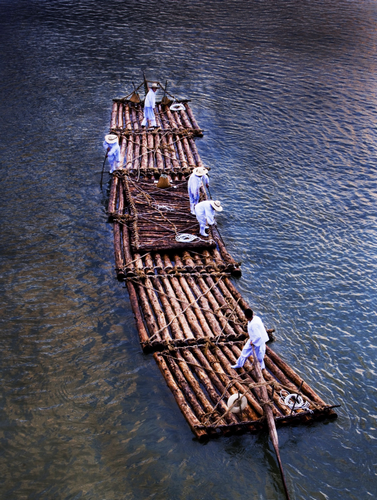 The Donggang ferry was once a popular mode of transportation along the Hangang River. While it was gradually outdated with the growth of highways and mass transportation, the ferry was a useful mode of transportation and the livelihood of people living upstream of the Hangang River. The festival commemorates and reproduces the lives of these people and their local culture. With the beautiful Donggang River as a backdrop, the event offers a wide array of performances, cultural events (honoring the Joseon poet Kim Sat-gat), and outdoor activities (rafting, hang gliding, paragliding, etc). The festival hosts many fun activities visitors to Yeongwol County can enjoy.
Admission Fee: Free (some activities require a participation fee)
Address : Hasong-ri, Yeongwol-gun, Gangwon-do
Transportation : Take an intercity bus to Yeongwol Bus Terminal. The festival venue is located approx. 800m away from the terminal.
www.ywfestival.com (Korean only)
Cheorwon Daseulgi (Marsh Snail) Festival (3 – 6 Aug)
Every August, Cherwon county hosts Shiri Town Black Snail Festival with main program of catching Daseulgi (Marsh snail) and other water-themed programs as zip wire, water slide, water boat riding and even water LED Nanta show!
Admission Fee: Varies on the program
Address : 6442 Hoguk-ro, Gimhwa-eup, Cherwon-gun, Gangwon-do
Transportation : Take an intercity bus to Wasuri Bus Terminal. Take a taxi to Hwagang Shiri Park
Website: www.ywfestival.com (Korean only)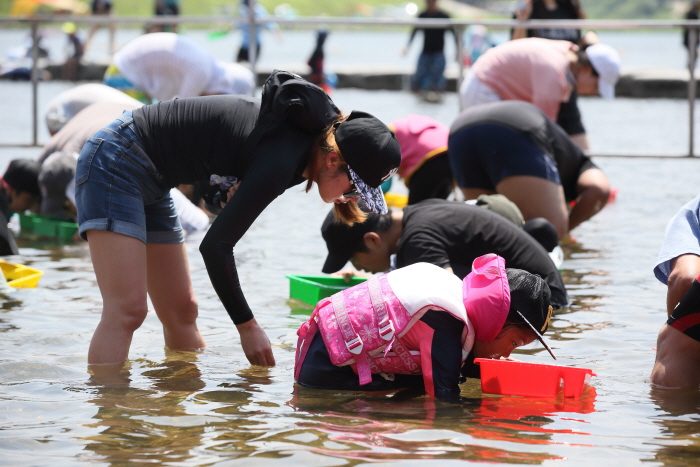 Hwacheon Tomato Festival (4 – 7 Aug)
The Hwacheon Tomato Festival is a 3-day fun-filled with lots of activities. The main event during this festival is "Find the Golden Ring", whereby participants will go in search in a puddle of squashed tomatoes for a 262.5g gold ring. The person who finds it will be the owner of that gold ring!
Admission Fee: Free (separate charge required for programs / Finding a tomato gold ring: free )
Address : 6, Munhwamaeul 1-gil, Hwacheon-gun, Gangwon-do
Transportation : From Dong Seoul Bus Terminal, take an intercity bus bound for Sachang-ri Bus Terminal. From the terminal, walk toward Sanae-ro for about 450 m and the venue will be on the left.
www.tomatofestival.co.kr (Korean only)
Chuncheon  Dakgalbi & Makguksu Festival (29 Aug – 3 Sep)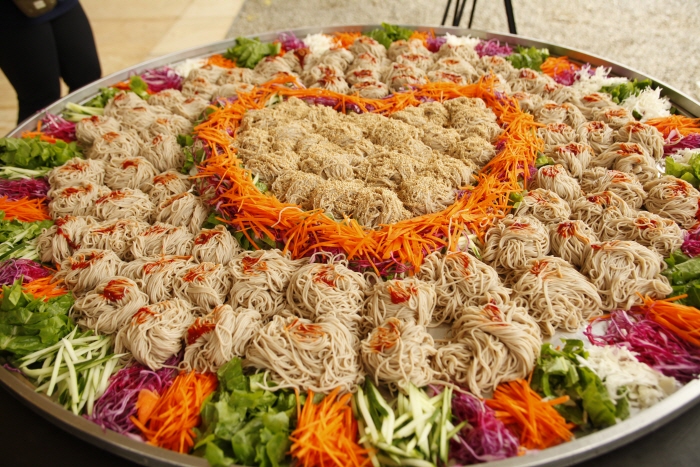 The Chuncheon Dakgalbi & Makguksu Festival is scheduled to be held in August. Visitors can enjoy Chuncheon-style buckwheat noodles and spicy chicken ribs, 2 representative dishes of the region. Special events include the Chuncheon Local Cuisine Cooking Contest and free sampling  of the area's famous dishes every afternoon.
Address : 1, Pyeonghwa-ro, Chuncheon-si, Gangwon-do
Transportation : Chuncheon Station (ITX)
www.mdfestival.com (Korean only)
How to go? Please find how to travel to festival site FREE and EASY? Click below to find the link below for more information about GoGoGangwon Bus!
GO! GO! GANGWON YOUR WAY : How to fully enjoy GANGWON with DKYW 2017 – Part 2
Fill your August with endless festivals in Gangwon!
Stay tune with us,